Oshawa Sports Hall of Fame - Our Mission
The objective of the Oshawa Sports Hall of Fame is to recognize and honour the achievements of Oshawa individuals and teams who have attained prominence and distinction in sports as well as those who have made a major contribution to the development of sport.
Located inside the General Motors Centre, the Sports Hall of Fame plaques and citations are displayed on the main level walls. The 3600 square foot Museum housing artifacts, memorabilia and photographs is also located on this level at the west end behind Section 119. The new Museum location opened officially in the spring of 2008.
Year Inducted: 2005
Home Town: Wales, Great Britain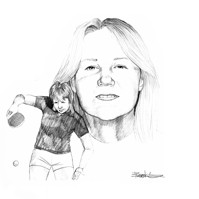 More about Michelle Qurrey:
A native of Wales, Great Britain, Michelle moved to Oshawa in 1980 at the age of twelve. Her dominance of the Girl's Canadian table tennis scene began shortly thereafter. The former Paul Dwyer High School student captured numerous championships at the provincial and national levels during the early 1980's. Her stretch of titles began in 1981, when she won the Canadian Championship in the under 13 category, and in 1982 followed that up by winning the under 15 Canadian Championship. In 1983, she captured the under 15 Gold Medal at the Canadian Winter Games in Chicoutimi, Quebec, and later that year won the Canadian Under 15 Championship again in Burnaby, British Columbia. A terrific year was capped by her being named the 1983 most outstanding Canadian female junior for her sport. In 1984, she was named to the five member Canadian National Junior Team, of whom only two hailed from Ontario. By capturing the under 17 Gold Medal at the 1985 Ontario Winter Games, she ended a five year run that included six Canadian Championships and six outstanding achievement awards. Because of her remarkable table tennis accomplishments, Michelle brought enormous pride to the City of Oshawa and is a worthy inductee into the Oshawa Sports Hall of Fame.