Oshawa Sports Hall of Fame - Our Mission
The objective of the Oshawa Sports Hall of Fame is to recognize and honour the achievements of Oshawa individuals and teams who have attained prominence and distinction in sports as well as those who have made a major contribution to the development of sport.
Located inside the General Motors Centre, the Sports Hall of Fame plaques and citations are displayed on the main level walls. The 3600 square foot Museum housing artifacts, memorabilia and photographs is also located on this level at the west end behind Section 119. The new Museum location opened officially in the spring of 2008.
Year Inducted: 1986
Home Town: Oshawa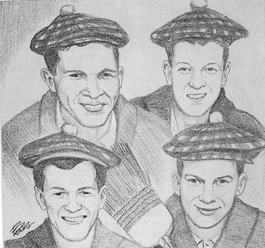 More about Oshawa Collegiate and Vocational Institute Schoolboy Curling Team:
Canadian and Ontario Schoolboy Curling Champions in 1953, the rink of skip Bob Walker, third Dunc Brodie, second Clare Peacock and lead George MacGregor returned from Saskatoon, Saskatchewan to a heroes' welcome. Upset in semi-final play at the 1956 Ontario Championships, the O.C.V.I. rink won the 1953 provincial title at the Oshawa Curling Club by dethroning the defending champions. At the Canadian Championships, Ontario's representatives and a rink from Regina, Saskatchewan finished tied after round robin play, each with 10-1 records. A playoff was required, and it was tied 7-7 after 10 ends. An extra end was played before the 3,500-strong crowd, and skip Bob Walker drew to the four-foot circle with his last rock to win the title and bring the Canadian Schoolboy Curling Championship to Eastern Canada for the first time.