Oshawa Sports Hall of Fame - Our Mission
The objective of the Oshawa Sports Hall of Fame is to recognize and honour the achievements of Oshawa individuals and teams who have attained prominence and distinction in sports as well as those who have made a major contribution to the development of sport.
Located inside the General Motors Centre, the Sports Hall of Fame plaques and citations are displayed on the main level walls. The 3600 square foot Museum housing artifacts, memorabilia and photographs is also located on this level at the west end behind Section 119. The new Museum location opened officially in the spring of 2008.
Year Inducted: 1988
Birth Date: April 16, 1949
Home Town: Oshawa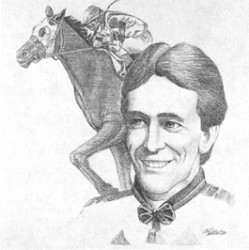 More about Sandford Desmond :
Sandy Hawley, born in Oshawa on April 16, 1949, attended Centre Street Public School before moving to Whitby. His introduction to horse racing was unexpected, for he had never considered becoming a jockey until it was suggested by his uncle, who was a racing fan. Being unanimously selected as one of only nine riders to receive the Avelino Gomez Memorial Award, exclusive to those with 5,000 or more wins, has special meaning for Hawley, for it was after Gomez that Hawley patterned his riding style. Hawley, twice named Canada's Athlete of the Year, was awarded the Order of Canada medal, being the first jockey to ride over 500 winners in one season. His mounts have earned more than $53,000,000 and he is the first rider to win over 5,000 races in the shortest period of time. In February 1987, he was inducted into Canada's Horse Racing Hall of Fame. Sandy is in his 19th season of race riding.
Latest News
Hall of Fame introduces class of 2017
Posted: 02 Feb 2018
OSHAWA - An impressive class will be inducted into the Oshawa Sports Hall of Fame when the ceremony … Read More
---