Oshawa Sports Hall of Fame - Our Mission
The objective of the Oshawa Sports Hall of Fame is to recognize and honour the achievements of Oshawa individuals and teams who have attained prominence and distinction in sports as well as those who have made a major contribution to the development of sport.
Located inside the General Motors Centre, the Sports Hall of Fame plaques and citations are displayed on the main level walls. The 3600 square foot Museum housing artifacts, memorabilia and photographs is also located on this level at the west end behind Section 119. The new Museum location opened officially in the spring of 2008.
Year Inducted: 2001
Home Town: Oshawa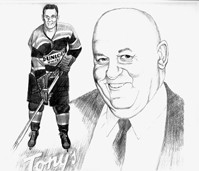 More about Thomas Leo OConner:
Born in Oshawa, Tom (Chico) OConnor's outstanding sporting career started in 1945, playing for both Oshawa minor hockey and Oshawa Legion baseball teams. uc0u8232 Over the next five years Tom honed his hockey and baseball skills, winning MVP awards and a scoring title.'a0 In 1950 Tom moved through the junior ranks in both sports, including the 1951/52 season with the Oshawa Generals. uc0u8232 In hockey, from 1954 to 1960, Tom starred with the Whitby Dunlops, who won the Allen Cup national championships in 1957 and 1959.'a0 He also played a major role on Canada's World Championship team in Oslo, Norway in 1958. uc0u8232 In baseball, Tom won an Ontario title with the 1953 McCallum Transporters and four consecutive Ontario championships as an outfielder for the Gale Lumber Senior B Fastball Club from 1967 to 1970.'a0 uc0u8232 Tom also coached the Oshawa Juvenile Fastball Team to an Ontario championship in 1973.