Oshawa Sports Hall of Fame - Our Mission
The objective of the Oshawa Sports Hall of Fame is to recognize and honour the achievements of Oshawa individuals and teams who have attained prominence and distinction in sports as well as those who have made a major contribution to the development of sport.
Located inside the General Motors Centre, the Sports Hall of Fame plaques and citations are displayed on the main level walls. The 3600 square foot Museum housing artifacts, memorabilia and photographs is also located on this level at the west end behind Section 119. The new Museum location opened officially in the spring of 2008.
Year Inducted: 1986
Home Town: Oshawa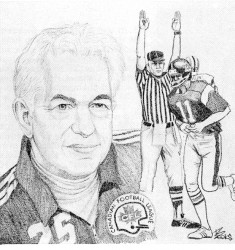 More about Bill Dell:
A Canadian Football League (CFL) official for 23 years, Oshawa-born Bill Dell was a member of six Grey Cup final officiating crews. He began his CFL tenure in 1958, working on the yardsticks and downs box - and three years later graduated to become an on-field official. His first Grey Cup game was the 1963 championship between the Hamilton Tiger Cats and the B.C. Lions. He also officiated in the 1971, 1974, 1976, 1977 and 1981 finals. Dell, who was offered a tryout by the Saskatchewan Roughriders in 1945, was a halfback with Oshawa Collegiate and Vocational Institute (OCVI), Oshawa Red Raiders Juniors, and Queens University. He became referee-in-chief of the Ontario Football Conference junior league a year after his retirement from the CFL in 1981. Dell, who also played Junior B hockey and senior baseball in Oshawa, was a co-founder of both the Oshawa Football Officials Association and Oshawa Basketball Officials Association. Bill was the son of Cy Dell, a well-known local baseball umpire.