Oshawa Sports Hall of Fame - Our Mission
The objective of the Oshawa Sports Hall of Fame is to recognize and honour the achievements of Oshawa individuals and teams who have attained prominence and distinction in sports as well as those who have made a major contribution to the development of sport.
Located inside the General Motors Centre, the Sports Hall of Fame plaques and citations are displayed on the main level walls. The 3600 square foot Museum housing artifacts, memorabilia and photographs is also located on this level at the west end behind Section 119. The new Museum location opened officially in the spring of 2008.
Year Inducted: 1986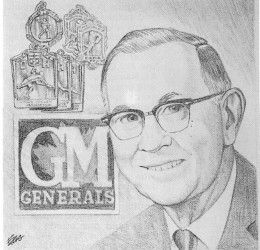 More about Matthew Leyden:
Matt Leyden made an indelible mark on the Oshawa sporting scene after arriving from his birthplace of Hawick, Scotland in 1914 at the age of 10. Matt managed the Oshawa Generals from 1928-1953, during which time the Generals won seven consecutive Ontario Hockey Association (OHA) championships (1943-44) and three Memorial Cups (1939, 1940 and 1944). Matt also managed Oshawa to the 1929 Mann Cup lacrosse title, award to the Canadian senior champions, and was an active member of the Oshawa Green Gaels Junior lacrosse club from 1964 - 1971. Awarded a life membership by the OHA in 1972, Matt served as that Association's president from 1965-67. Matt also served on the Canadian Amateur Hockey Association (CAHA) executive and received an Achievement Award from the Ontariio Government in 1971 for his involvement in amateur sports. In 1975, the East Division of the Ontario Major Junior Hockey League was renamed the Leyden Division in his honour.