Oshawa Sports Hall of Fame - Our Mission
The objective of the Oshawa Sports Hall of Fame is to recognize and honour the achievements of Oshawa individuals and teams who have attained prominence and distinction in sports as well as those who have made a major contribution to the development of sport.
Located inside the General Motors Centre, the Sports Hall of Fame plaques and citations are displayed on the main level walls. The 3600 square foot Museum housing artifacts, memorabilia and photographs is also located on this level at the west end behind Section 119. The new Museum location opened officially in the spring of 2008.
Year Inducted: 1986
Home Town: Oshawa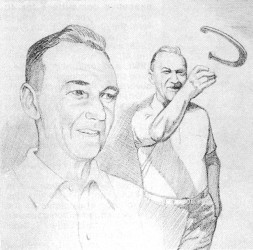 More about Dean William McLaughlin:
A 13-time Canadian champion, and winner of the North American title once, Dean is one of the finest horseshoe pitchers in Canadas history. A graduate of Mary St. P.S., Dean became involved in horseshoe pitching in 1937. He began his success at the Canadian championships by winning the national title a year later, and followed that with national crowns in 1949, 1950, 1952, 1954, 1955, 1956, 1960, 1967, 1969, 1973 and 1974. Dean won the North American Championship in 1960. In the same year, he set a world record by averaging 92 percent ringers in five consecutive playoff games. A fine all-round athlete, Dean played for Oshawa Colts Ontario Softball Championship teams in 1942 and 1943, curled in the Ontario British Consul Playdowns in 1956, and as a lawn bowler was part of the 1964 General Motors Gold Cup winning team and district championship teams in 1971 and 1972.