Oshawa Sports Hall of Fame - Our Mission
The objective of the Oshawa Sports Hall of Fame is to recognize and honour the achievements of Oshawa individuals and teams who have attained prominence and distinction in sports as well as those who have made a major contribution to the development of sport.
Located inside the General Motors Centre, the Sports Hall of Fame plaques and citations are displayed on the main level walls. The 3600 square foot Museum housing artifacts, memorabilia and photographs is also located on this level at the west end behind Section 119. The new Museum location opened officially in the spring of 2008.
Year Inducted: 2004
Home Town: Oshawa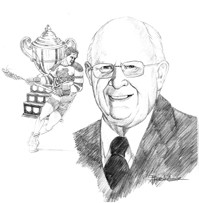 More about James P. (Jim) Brady:
Born and raised in Oshawa, Jim's passion for the sport of lacrosse began more than 50 years ago while running a program for the Oshawa Recreation Department. In 1956, Jim helped organize the Oshawa Minor Lacrosse Association acting as coach, league convener and president. This eventually led him to the Garrard Road and Whitby Minor Lacrosse Association. In 1969, Jim formed the Whitby Junior Lacrosse program, coaching and managing the Jr. B and Jr. A teams. Jim's teams excelled winning two Canadian Jr. B championships with the Whitby B&R Transporters in 1970 and 1974. In later years, he went on to reach the Canadian Jr. A Minto Cup finals six times, winning on three occasions. His Whitby CBC Builders won in 1980, and then his St. Catharines Athletics won National titles in 1990 and 1991. Jim was voted the O.L.A. Mr. Lacrosse in 1984 and Sportsman of the Year in St. Catharines in 1990 and 1991. In 1998, Jim was inducted into both the Ontario and Canadian Lacrosse Halls of Fame. For the past seven years, he has been the O.L.A. Major League Commissioner, as well as general manager/coach of the N.L.L. New Jersey Storm, now Anaheim Storm. Jim Brady's work and dedication to the sport of lacrosse truly earns him a spot as Builder in the Oshawa Sports Hall of Fame.