Oshawa Sports Hall of Fame - Our Mission
The objective of the Oshawa Sports Hall of Fame is to recognize and honour the achievements of Oshawa individuals and teams who have attained prominence and distinction in sports as well as those who have made a major contribution to the development of sport.
Located inside the General Motors Centre, the Sports Hall of Fame plaques and citations are displayed on the main level walls. The 3600 square foot Museum housing artifacts, memorabilia and photographs is also located on this level at the west end behind Section 119. The new Museum location opened officially in the spring of 2008.
Year Inducted: 2004
Birth Date: September 21, 1928
Home Town: Oshawa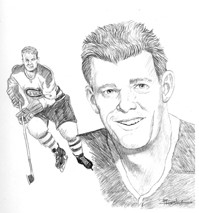 More about Ross Robert Lowe:
Ross Robert Lowe was born in Oshawa on September 21, 1928. He began his hockey career in the Oshawa City League. Ross joined the Oshawa Generals at the age of 15 and played there for the next five years. In the fall of 1948, Ross signed with the Boston Bruins of the N.H.L. The Boston Bruins brought him up to the N.H.L. where he played most of the 1950-51 season. During that year, Ross was traded to the Montreal Canadiens. Ross spent the 1951-52 season with the Canadiens, and was then dealt to the Victoria Cougars of the Western Hockey League. Ross then spent the 1954-55 season with the Springfield Indians of the American Hockey League, where he won the AHL - MVP Award. The New York Rangers recognized his talent and signed him for the 1955 - 56 season. During the summer of 1955, and just one month short of his 27th birthday, Ross accidentally drowned while on vacation in Haliburton. A tragic loss to his family and to hockey fans everywhere.