1958 Oshawa Juvenile Hockey Club -
Hockey
Year Inducted: 2013
More about 1958 Oshawa Juvenile Hockey Club: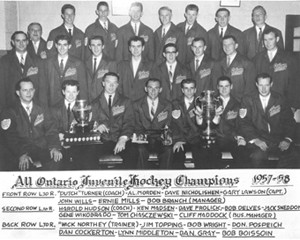 The Oshawa Juveniles were a dominant hockey club, winning the All-Ontario championship in 1958, claiming the Eastern Ontario and Southern Ontario titles en route to the final.The team helped create big-time hockey interest in Oshawa with its winning ways.Coached by Doug Turner and Harold Hudson, and managed by Bob Branch, the Juveniles had to win six playoff rounds to win the Ontario crown.Oshawa scored series wins over Peterborough, Kingston, Toronto Marlboros, St. Catharines and Tillsonburg to advance to the Ontario Championship.Oshawa played Sault Ste. Marie in the final, winning the fifth and deciding game 3-2 in the Soo before a crowd of 4,000. The Sault Ste. Marie team featured future NHLers Phil Esposito, Lou Nanne and Wayne Maki.Upon their return to Oshawa, the team was greeted by a crowd of 600 at the Oshawa Centre.
---
1972-73 Oshawa Parkway Midget Hockey Team -
Hockey
Year Inducted: 2014
Home Town: Oshawa
More about 1972-73 Oshawa Parkway Midget Hockey Team: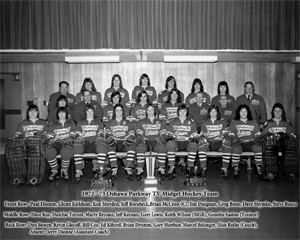 The 1972-73 Parkway TV Midgets enjoyed a storybook season that included a tour of Sweden and an all-Ontario championship. Parkway TV played 76 games in that memorable year, winning 66, losing 8 and tying 2. The club toured Sweden, winning 6 games and tying the other. But it was a spectacular play-off run that captured the imagination of Oshawa hockey fans, who regularly jammed Harman Park Arena to watch the team, which was coached by Al Bathe. Oshawa won series against Peterborough, Kingston, Guelph, Windsor and the Toronto Marlboros before taking down the northern champs, Sudbury, in the Ontario final.
---
1977-78 Oshawa Kinsmen Bantam Hockey Team -
Hockey
Year Inducted: 2015
Home Town: Oshawa
More about 1977-78 Oshawa Kinsmen Bantam Hockey Team:
When a hockey team rings up a regular-season record of 53-4-3, other bantam teams throughout the province would certainly have taken notice. The Oshawa bantam hockey organization made plenty of noise, mostly cheering after a goal, during the 1977-78 campaign in the Ontario Minor Hockey Association (OMHA) AAA play.Their season would climax with a 3-2 victory over Sault Ste. Marie to capture the provincial Loblaw's Cup championship. It took victories over Peterborough, Belleville, Richmond Hill, Niagara Falls and Kitchener-Waterloo to finally meet up with the Soo.Losing a few and adding a few bodies over a five-year stretch, the young players stayed together as a team during their Ontario championship run, beginning with the 1975 minor peewee squad and culminating with the 1979 midget title. They came oh so close to winning a sixth crown in 1980, but settled for second best.The bantams featured three high profile players who would later cut their teeth at the National Hockey League (NHL) level. Peter Sidorkiewicz was a solid goaltender and he had strength in front with Dale DeGray as his defensive companion. The scoring touch was orchestrated by Dale Hawerchuk, who in later years was inducted into the Hockey Hall of Fame.
---
1987-88 Oshawa Kiwanis Major Midget AAA Hockey Team -
Hockey
Year Inducted: 2017
Home Town: Oshawa
More about 1987-88 Oshawa Kiwanis Major Midget AAA Hockey Team:
The 1987-88 Oshawa Kiwanis Major Midget AAA Hockey Team were winners of six championships that season and home to several players who went on to have distinguished careers in the game.The team had an incredibly busy schedule, playing in both the ETA and MTHL major midget leagues. The team played 90 games overall, winning 70, losing just 12 and tying eight, while averaging to score 4.68 goals per game and allowing 2.64.In addition to winning the ETA and MTHL regular season championships, the Oshawa Kiwanis team also claimed the Oshawa Carlo's Electric Classic tournament, the Ontario Minor Hockey Association title, the Ontario Hockey Association all-Ontario crown and the Central Regional Air Canada Cup before moving on to the nationals in Thunder Bay and finishing fourth. The team also had a very successful eight-game overseas trip to Czechoslovakia in November 1987, winning all four games against club teams, tying two against a national team the same age and losing two to an older national team.Four players on the team would go on to win a Memorial Cup in 1990 with the Oshawa Generals, and three would play in the National Hockey League.
---
1991-1992 Oshawa ONeill Collegiate Senior Boys AAA -
Basketball
Year Inducted: 2005
More about 1991-1992 Oshawa ONeill Collegiate Senior Boys AAA: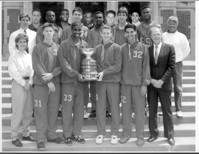 The 1991-1992 Oshawa O'Neill Boys Basketball Team achieved prominence in Ontario Basketball by being the first, and to date, the only Oshawa school, in fact Durham Region school, to win the highest division senior boys basketball title. The achievements of this basketball team are outstanding. After a December loss to provincially ranked Toronto Bathurst Heights, Oshawa O'Neill did not lose another game for the rest of the season, winning 30 straight games. This talented team won the following in 1992: The Ottawa South Carlton Tournament, The O'Neill Rob Burnett Memorial Tournament, The Oshawa Times Classic Invitational Tournament, The Lake Ontario Secondary School Association Championship and the Ontario Federation Secondary School Association Provincial Championship. In winning the Ontario title, Oshawa O'Neill won five straight games in just over 52 hours, culminating in a 64 to 56 win over the number one ranked Toronto Runnymede Redmen. The overall team season record was 42 wins and 5 losses. Of special note, all 10 team members, plus the team manager, graduated from O'Neill with four accepting U.S. athletic championships, and four remaining in Canada to play at the university or college level. Chris Kolesnik, Patrick Brandt, Jayson Podrats, Marlon Coore, Troy Cole, Jason Medford, Chris Elmhurst, Doug Wilson, Cam Nekkers, Steve Givelas, Trevor Sharp, Ben Birstonas (Assistant Coach), Gary Blair (Assistant Coach), Peter Gordon (Assistant Coach), Shauna McRae (Manager), Bill Widdis (P/E Head), Kim Burnett and Craig Andrews (Head Coach).
---
Adriano Didanieli -
Soccer
Year Inducted: 2002
Home Town: Udina
More about Adriano Didanieli: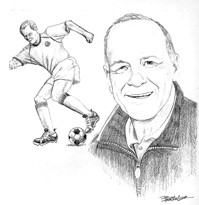 Adriano DiDanieli was born in Udina, Italy in 1934 and moved to Canada in 1954. In 1960, he arrived in Oshawa where he joined the Holandia Soccer Club, moved on to the Kickers, and then to Oshawa Italia. Over a nine year period he became a star in the league. He led his team to nine league championships, as well as three provincial finals, 1965-66-68, an Ontario Cup Championship in 1965, the Eastern Canadian Championship in 1965, and the Dominion finals in the same year. During his career, Adriano was selected to the All-Star Team nine times, as well as being voted most valuable player three times and winning the individual scoring title four times. Adriano then became a player - coach and his experience and love of the game was rewarded by being selected to coach the All-Star Team several times. In 1982-83-85, the Durham Regional Soccer Association named Adriano Coach of the Year.
---
Alan (Beefy) Bathe -
Hockey
Year Inducted: 2012
Birth Date: May 12, 1927
Home Town: Oshawa
More about Alan (Beefy) Bathe: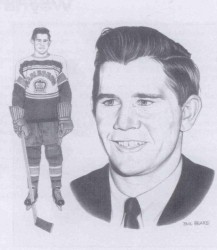 Born in Oshawa on May 12, 1927, Beefy played minor hockey in the city before graduating to the Oshawa Generals for the 1945-46 season. The next season he won an OHA Junior B title with the Toronto DeLasalle Oaklands. Alan also attended the Toronto Maple Leafs camp for two years. Following that he played senior hockey, including a season with the Toronto Marlboros in 1947-48. Beefy spent the 1948-49 year as a player-coach with the Ayr Raiders in Scotland. He eventually returned to Oshawa, started a family and career in the construction business and returned to his minor hockey roots. He served as coach, advisor and sponsor in Oshawa Minor Hockey in the 1950\'s, 60\'s and 70\'s. Among his many highlights were taking the 1972 Oshawa Parkway TV Midgets on a tour of Sweden. He then guided the same team to an All-Ontario Championship and won the North American Silver Stick Tournament and an All-Ontario Championship with the Oshawa Bantam Hockey Team. Beefy was also awarded by the Ontario Minor Hockey Association for his dedication and contributions. Beefy was responsible for converting Terry O\'Reilly from a goalie to a forward during his bantam year. In other sports, Alan was an avid golfer and after switching from playing left handed to the right, he carried a Two Handi-cap competing annually in the Club Championships at the Oshawa Golf Club. He curled and also played junior and senior baseball.
---
Alan K. Essery -
Cycling
Year Inducted: 1998
Home Town: Oshawa
More about Alan K. Essery: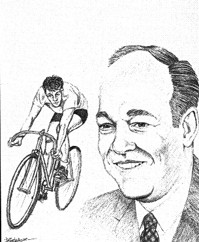 Alan, born and educated in Oshawa, attended Centre Street Public School and O.C.V.I. He began his competitive cycling career in 1948. In 1949 he moved from a class 'B' to a class 'A' rating. In June 1951 Alan won the Canadian 1/4-mile, for which he was the recipient of the 'William Spencer' trophy, and he also won the 1/3-mile Canadian championship. In September of that year he captured the 1-mile and 5-mile Ontario championships, was second in the 1/4-mile event and third in the 1/2-mile. For his accomplishments Alan was awarded the All-round Ontario championship. During his career in Canada he competed in Oshawa, Toronto, Montreal, Delhi, Brantford and Vancouver. In the United States he competed in Buffalo, Hamburg, Tonawanda and Detroit. Although Alan's competitive career came to a close in 1960, he is still active today as a member of the Oshawa Cycling Club.
---
Albert "Red" Tilson -
Hockey
Year Inducted: 1987
Home Town: Regina
More about Albert "Red" Tilson: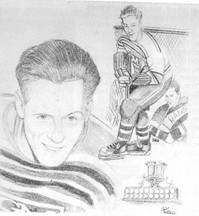 Albert "Red" Tilson came skating out of the west to help the Oshawa Generals to two Ontario Hockey Association Junior A Championships in 1942 and 1943. Born in Regina, Red came to Oshawa in time for the 1941 season. As a flashy forward with good speed and great stick-handling ability, he was known for his gutsy, never-say-die attitude and he helped lead the Generals to the Memorial Cup Final in 1943 winning the O.H.A. scoring championship in that year. After the season, Red joined the army. His brilliant career was tragically cut short, being killed in action on October 21, 1944. To honour his memory, the Red Tilson Trophy has been awarded since 1945 to the junior player in Ontario judged most outstanding by sportscasters and sportswriters. The trophy was won by Fellow Hall of Famer and General Bobby Attersley in 1953, and by Generals Rick Middleton (1973) and Scott McCrory (1987).
---
Albert James (Parky) Parkhill -
Curling
Year Inducted: 1992
Birth Date: December 26, 1898
Home Town: Burford County
More about Albert James (Parky) Parkhill: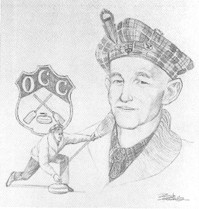 Albert 'Parky' Parkhill was born on December 26, 1898 in Burford County. He was educated in Paris, Ontario, and at the University of Toronto, Osgoode Hall. He came to Oshawa in 1924 and served this community diligently as a lawyer and Alderman (1933). 'Parky' was a sports enthusiast, a supporter of many sports and an outstanding participant in curling. He was a life member of the Oshawa Curling Club where he was president in 1938/39, president of the Ontario Curling Association in 1960/61, president of the Canadian Curling Association in 1969, and vice-president of the Royal Caledonia Curling Club in Edinburgh, Scotland in 1969. He threw the opening stone at the World's Championship in Perth in 1969. In 1951 his Oshawa Curling Club rink were winners of the Provincial Silver Tankard with 'Parky' as Skip. In 1968 he led a group of Canadian Curlers to mainland Europe and Scandinavia to promote the game. He was awarded the Governor General's Honours the same year. 'Parky' was honoured by the Ontario Curling Association in 1969 when they designated the Intermediate Competition Trophy in his name; and to demonstrate his worthiness, in 1976 he was elected to the Curling Hall of Fame.
---