Albert James Barnes -
Multi Sport
Year Inducted: 2011
Home Town: Hastings
More about Albert James Barnes: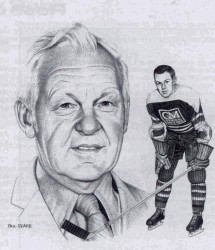 Albert (Ab) Barnes was born in Hastings, Ontario in 1915. In 1922, Ab and his family moved to Oshawa Ontario where he lived until he passed away in 2003 in his 88th year. Ab attended Centre Street Public School and ONeill Collegiate in Oshawa. He became one of the outstanding young athletes in Oshawa, participating in a number of sports - track and field, hockey, softball, lacrosse and football. Ab was an accomplished hockey player and following minor hockey, he played for the Oshawa Junior Majors of the O.H.A. from 1932 to 1935. In the 1936-37 season, he played for the Oshawa Intermediate A O.H.A. Champions. During the following years, he played for the Quebec Aces 1940 - 42 and the Ottawa Cammandos of the Quebec Hockey League Allan Cup Champions in 1943. Ab then returned to the Oshawa area and during the years 1947 to 1951, he played for the Peoples Credit Jewellers of the Toronto Hockey League - league champions in 1948, 1950 and 1951. After his playing days, Ab became the first coach of the Oshawa Smith Truckmen Team which later became the Whitby Dunlops managed by Wren Blair. Ab also played other sports: softball in the Toronto Beaches League, football during the late 30s for the Oshawa Blue Devils and lacrosse in the Oshawa District Lacrosse League. Ab referred hockey in the O.H.A. for a number of years. Beginning in the 1950s, he umpired baseball and softball in the area. He, along with Jack Hobbs and Charlie March, covered the majority of games for the Oshawa Merchants Senior Baseball Team where Ab was the plate umpire for most games. Throughout Abs career, his dedication and love of sports was evident. Whether it be as a player, coach, umpire or referee, he displayed loyalty, determination and professionalism at all times.
---
Albert W. (Army) Armstrong -
Multi Sport
Year Inducted: 1992
Home Town: Belleville
More about Albert W. (Army) Armstrong: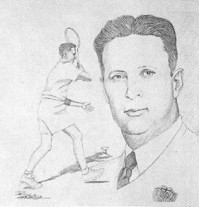 In 1930 Army moved to Oshawa from Belleville where he had been a popular local athlete participating in hockey, baseball, basketball and tennis. A C.A.H.A. referee from 1931 to 1945, Army played a dominant role officiating in three Allan Cup finals, several Memorial Cup finals, many Eastern Canadian finals, and countless O.H.A. contests. As a player, he participated in tennis, badminton, golf and curling locally and provincially. In tennis he was Oshawa singles and doubles champion ten times and mixed doubles champion three times, and he was a worthy opponent in Elite competition with Davis Cup stars. As an executive/builder, Army was manager of the Oshawa Arena in 1932 helping the hockey program and served as president of the Central Ontario Tennis Association, Oshawa Curling Club, Oshawa Golf Club, Oshawa Minor Hockey Association, and Oshawa Tennis Club. Army Armstrong's outstanding involvement as a player, referee and builder earns him a prominent place in Oshawa's sports history.
---
Alex Oakley -
Walking
Year Inducted: 1986
Home Town: Oshawa
More about Alex Oakley: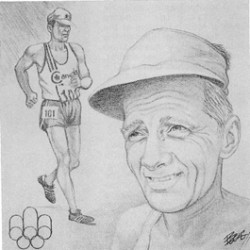 A race-walk specialist, Oshawa resident Alex Oakley was a gold medal winner in the 20-kilometre event at the 1963 Pan-American Games in Sao Paulo, Brazil. He also represented Canada at five Olympic Games (1956, 1960, 1964, 1972 and 1976) and two Commonwealth Games competitions (1966, 1970). He finished sixth in the 50-kilometre race at the 1964 Olympics at Tokyo, Japan, wound up 21st in the 50-kilometre event at the 1972 Games at Munich, West Germany and, as a 50-year old athlete in 1976, was 35th in the 20-kilometre walk at the 1976 Olympic Games in Montreal. Oakley was also 1975 World Masters Games champion at both the 5-kilometre and 25-kilometre distances.
---
Algis (August) Liauba -
Judo
Year Inducted: 1992
Home Town: Lithuania
More about Algis (August) Liauba: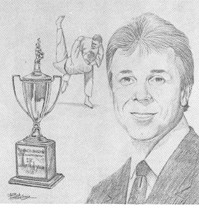 August Liauba was born in Lithuania in January 1946. In 1949 Lithuania's loss became Oshawa's gain when he took up residence in our fair community. August has actively participated in the sport of Judo for over twenty-six years, honourably representing Oshawa at both Provincial and National competitions. August began the sport at age eighteen and, remarkably, by age twenty-one he had attained his black belt and a National Championship. By 1968, he had represented Canada in International Competition in Puerto Rico, Mexico City, Brazil and the United States. In 1970, the Honourable William Davis presented August with a special achievement award - in recognition of distinguished performance in the field of amateur sport. A highly respected sportsmen, August has proudly represented Oshawa and has contributed to the excellence and diversity of Oshawa's athletic community.
---
Andre Talbot -
Football
Year Inducted: 2017
Birth Date: May 03, 1978
Home Town: Toronto
More about Andre Talbot:
Andre Talbot played his first organized tackle football game at Paul Dwyer high school in Oshawa and went on to have a 10-year pro career in the Canadian Football League, including a Grey Cup winning season with the Toronto Argonauts in 2004.Born May 3, 1978 in Toronto, Andre was a multi-sport athlete as a youngster, excelling in track and field, hockey, soccer and badminton. Andre learned to play the game of football in Oshawa at Dwyer, where he was a star quarterback. He followed in the footsteps of his uncle and played his collegiate career with the Wilfrid Laurier Golden Hawks, where he converted to receiver and received two-time CIS 1st Team All-Canadian and OUA All-Star ('99/'00) selections and earning team MVP honours in his final year with the Hawks ('00). Andre was inducted into the WLU Golden Hawk Hall of Fame in 2006.He spent nine of his ten seasons in the CFL with the Argos, who selected him in the fifth round of the 2001 draft. After nearly walking away from the game in his second season due to injuries and frustration, Andre caught on as a receiver with the team and ended up with 288 career receptions for 3,703 yards and 18 touchdowns over 126 CFL games. In 2008, he had career highs of 76 receptions and 915 yards, and was the Argos' nominee for Most Outstanding Canadian. Andre's persistence and leadership eventually earned him the honour of Offensive Team Captain and CFLPA team representative ('08/'09). After a devastating ankle injury in 2009 Andre chose to hang up his cleats following one final season with the Edmonton Eskimos in 2010.Since retiring from the rigorous and gruelling nature of competition, Andre has dedicated his life and work to the study and teaching of movement and mindfulness at his studio, Spirit Loft Movement
---
Andrea Derby -
Skating
Year Inducted: 2015
Home Town: Oshawa
More about Andrea Derby:
While it's true it takes countless hours of practice on the ice to perfect your skills as a competitive figure skater, the same can be said off the ice as a well-respected judge in the same field. Oshawa's Andrea Derby has accomplished both over the years to the extent she is still counted on to ply her skills as a judge at international venues. Her introduction to the sport at a very young age took her to the Oshawa Figure Skating Club where for a 14-year period, she took on all challenges as a keen competitor which includes two pairs competition in the senior Nationals. Andrea would eventually compete in five national championships, which was a natural high. However, she had another ambition as well.Interestingly, while maintaining her status as an athlete, Andrea also had ambitions of becoming a judge and through the protocol of taking the necessary steps to earn her certificate, she was soon called on for active duty.Her first foray was the Nationals in 1995 and from there she would advance to an international level, highlighted by the world championship in Los Angeles in 2009 and the 2010 Winter Olympics in Vancouver.
---
Andrew David Stewart -
Baseball
Year Inducted: 2009
Birth Date: December 05, 1970
Home Town: Oshawa
More about Andrew David Stewart: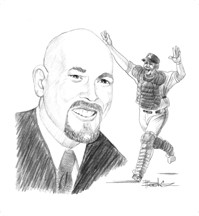 Stewart began in the Oshawa Minor Baseball System with the Oshawa Legion Junior Legionaires as well as high school ball with the Eastdale Eagles. Following his minor playing days, the Oshawa native joined the National Junior Program playing for Canada in the 1988 World Junior Championships in Sydney, Australia. Catching the eyes of the professional scouts Andy signed as a free agent with the Kansas City Royals where he spent nine seasons in their system. Stewart reaching his dream of playing major league baseball when he was called up by the Royals in 1977 doubling in his first big league at bat.Following one season in the Philadelphia Philies minor system Andy returned to the Canadian National Program playing in the 1999 Pan American Games in Winnipeg. He led his team to a bronze medal hitting .452 with 4 home runs, 15 RBI's and begin named Canada's MVP.Andy spent the next two (2) seasons with the Toronto Blue Jays as their bullpen coach before getting the opportunity to manage the Pittsburgh Pirates minor league affiliate Williamsport Crosscutters. In his second season there he led the Crosscutters to the New York Penn League Championship.The itch to play lured Andy back one more time when he was asked to play for Canada's Olympic Team in the 2004 Summer Games in Athens, Greece. Again, Andy led his team in hitting with a .417 batting average helping Canada to a fourth place finish.As Oshawa's only native son and ball player to perform in Major League Baseball, Andy has earned the honour of induction into the Oshawa Sports Hall of Fame.
---
Anna Louise Forder-McLaughlin -
Figureskating
Year Inducted: 1988
Birth Date: May 25, 1951
Home Town: Oshawa
More about Anna Louise Forder-McLaughlin: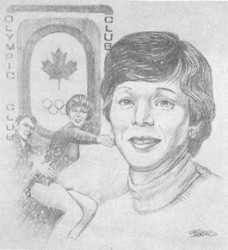 Born in Oshawa on May 25, 1951, Anna moved to Port Perry at a young age, attending public and high school in the community. During her early figure skating career, Anna competed in Free-Style Pairs with Rick Stephens. As amateurs in 1966, they won the Canadian Junior Pairs Championship in 1967, they were Bronze Medalists in the Senior Pairs Championship, and placed 4th in the North American Championship in 1968. Anna was a member of the Tenth Winter Olympic Games representing Canada in figure skating competitions held in Grenoble, France. In 1969, the Free-Style pair won the Senior Canadian Championship and were members of the North American and World Teams. After a successful career in amateur competitions, Anna turned professional; and trained numerous Oshawa skaters to various Ontario and Canadian Championships. Paul Martini and Barbara Underhill credited Anna's training and coaching abilities for their long career in amateur and professional skating.
---
Anthony Nicholas (Tony) Esposito -
Multi Sport
Year Inducted: 2002
Home Town: Smith Falls
More about Anthony Nicholas (Tony) Esposito: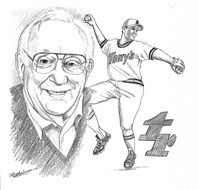 Anthony Esposito, who is known to Oshawa's Sporting Community simply as 'Tony', was born in Smith Falls, Ontario in 1919. He moved to Oshawa at the age of 2, and was educated at St. Gregory's Catholic School. In 1950, Anthony Esposito founded what was to become Tony's Refreshments and TRS Food Services. Soon after, Tony began sponsoring a broad range of Oshawa Teams for the next 24 years. Throughout the 50's, 60's and 70's, Tony's firm was the pre-eminent sponsor of amateur sport in the City of Oshawa. The sponsorships ranged from the nationally and internationally known Provincial and Canadian Champion Oshawa Tony's Fastball Club, to Minor League and CAW League hockey teams, lacrosse, football, darts, and a major league bowling team. There is no doubt that Tony Esposito's unending generosity made it possible for countless Oshawa athletes to compete in the sport of their choice, and to enjoy the personal rewards that such competition brings.
---
August (Gus) Bodnar -
Hockey
Year Inducted: 1995
Home Town: Fort Willliams
More about August (Gus) Bodnar: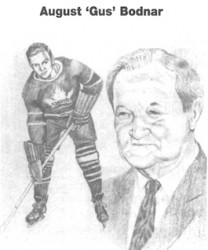 Gus was born in Fort William, Ontario in 1923. Gus played for the Toronto Maple Leafs from 1943 to 1948, winning the Calder Trophy as Rookie of the Year and was a member of the 1945 Stanley Cup Team. While playing for the Chicago Blackhawks, Gus assisted on Bill Mozienko's three fastest goals - 21 seconds - an existing record. Gus ended his professional playing career with the Boston Bruins in 1956. Gus coached for twenty years at the Junior C, Junior B and Junior A levels and in the Western Professional League. He coached the Memorial Cup Champion Toronto Marlboros in 1967 - 68. Gus moved to Oshawa in December 1970 and coached the Generals until 1976. He was awarded the Matt Leyden Trophy as Coach of the Year in 1971 - 72. Gus also coached Canada's Junior team to a Bronze Medal in 1977-78. Gus continues to take a keen interest in the game that was so much a part of his life.
---