Colonel William Frank Hayball -
Multi Sport
Year Inducted: 1996
Home Town: Oshawa
More about Colonel William Frank Hayball: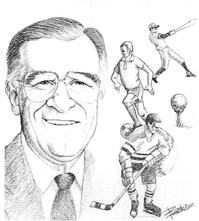 Bill is a lifelong resident of Oshawa. From 1976 to 1988, Bill sponsored numerous sporting activities, including softball, baseball, hockey, lacrosse, soccer, bowling and curling. He continues to host the annual Bill Hayball Jr. Invitational Golf Tournament. In 1988 Bill established The William F. Hayball Charitable Foundation to support local charities and athletic programs. Between 1988 and 1995 the Foundation has donated over $1.1 million to various groups, including the Oshawa Sports Hall of Fame. For the past six years, the Oshawa Senior Citizens' Club has received funds to purchase tickets for its members to attend Oshawa sporting events. In 1993 the Foundation made a donation to a service club for the publishing of the A History of the Oshawa Generals, with the proceeds being donated to the Cystic Fibrosis Society. Bill's generous sponsorship includes people of all ages, from children to seniors. Oshawa and its citizens owe a tremendous debt of gratitude to Bill Hayball.
---
Dale Degray -
Hockey
Year Inducted: 2011
More about Dale Degray: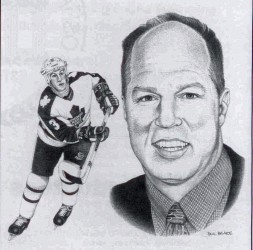 Groomed in the Oshawa Minor Hockey Association, Dale is no stranger to professional hockey. He had the luxury of tasting the experience of Cup finals on three levels prior to his retirement in 1999. Buoyed by a diligent work ethic, Dales progress as an athlete unfolded during Oshawas championship run in the 1978 Ontario Minor Hockey Association (OMHA) Major Bantam Playdowns where he was recognized as the top defenceman of the provincial tournament. His hard work paid off handsomely when Dale caught on with the junior Oshawa Generals in 1980, helping the squad to the 1982 Memorial Cup final. Dale did play for the Generals from 1980-83. This experience proved to be an exciting stepping stone for what was ahead as this keen defenceman settled in for a memorable pro hockey career. Drafted by the Calgary Flames in 1981, Dale eventually sported the jersey for six seasons and during the 1986-87 campaign, the Flames reached the Stanley Cup final. Dale did go on to play for the Toronto Maple Leafs, Los Angeles Kings and the Buffalo Sabres. Collectively, he played more than 1,000 games on various levels throughout 17 professional seasons. His career in the NHL might have been complete in 1990, but certainly not his activity on a professional level. Dale helped the Rochester Americans to two American Hockey League (AHL) Calder Cup finals and in 1993, played a prominent part in guiding the San Diego Gulls to an International Hockey League (IHL) Turner Cup final. Dale took his show on the road as a member of Team Canada at the world championship in Sweden, helping his country to a bronze medal. Dales desire to remain in hockey following his playing and coaching days vaulted him to scouting for the Florida Panthers in the NHL and serving as General Manager of the OHLs Owen Sound Attack. His vast experience and relationship within the hockey boundaries provides an imprint for young, aspiring hopefuls. Dales mandate has been to help groom others who have similar dreams, similar goals. Mission accomplished.
---
Dale Hawerchuk -
Hockey
Year Inducted: 1999
Home Town: Oshawa
More about Dale Hawerchuk: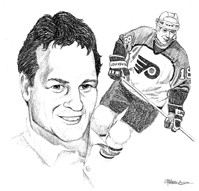 Dale started playing hockey at the age of four and graduated through the Oshawa Minor Hockey system to the Oshawa Legionaires. In 1979 he was drafted by the Cornwall Royals of the Quebec Major Hockey League where he played on two consecutive Memorial Cup championship teams. He was named the Most Valuable Player and the Canadian Major Junior Player of the Year in 1981. He was drafted first overall in 1981 by the Winnipeg Jets and won the Calder Trophy as the NHL's Rookie of the Year in 1982. In 1984 he was runner-up for the Hart Trophy as the NHL's Most Valuable Player. During his 16-year NHL career with Winnipeg, Buffalo, St. Louis and Philadelphia, Dale scored 518 goals and had 892 assists ranking him 10th of all time. Internationally, Dale played on the 1987 and 1991 Canada Cup winning teams. He was named the MVP for the third and deciding game in Canada's 1987 victory over Russia.
---
David Black -
Football
Year Inducted: 1997
Home Town: Oshawa
More about David Black:

David was born in Toronto and was raised and educated in Oshawa. In his early years David not only played for the Oshawa Hawkeye Junior Football Club, he also volunteered his time and talent in promoting the club. Following an outstanding career at Sir Wilfrid Laurier University, David was selected by the Winnipeg Blue Bombers in the third round of the 1984 Canadian University draft. David spent the next 12 years as an outstanding offensive lineman for the Bombers. David was fortunate to have particpated in four Grey Cup games with the Blue Bombers, who won the Cup in 1988 against the B.C. Lions, and again in 1990 against the Edmonton Eskimos. During his career in the Canadian Football League, David was voted to the Eastern All-Star Team in 1989, 1993 and 1994. In 1993 he was also honoured by being selected to the C.F.L.'s All-Star Team.
---
Dean William McLaughlin -
Horseshoes
Year Inducted: 1986
Home Town: Oshawa
More about Dean William McLaughlin: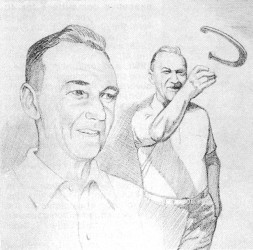 A 13-time Canadian champion, and winner of the North American title once, Dean is one of the finest horseshoe pitchers in Canadas history. A graduate of Mary St. P.S., Dean became involved in horseshoe pitching in 1937. He began his success at the Canadian championships by winning the national title a year later, and followed that with national crowns in 1949, 1950, 1952, 1954, 1955, 1956, 1960, 1967, 1969, 1973 and 1974. Dean won the North American Championship in 1960. In the same year, he set a world record by averaging 92 percent ringers in five consecutive playoff games. A fine all-round athlete, Dean played for Oshawa Colts Ontario Softball Championship teams in 1942 and 1943, curled in the Ontario British Consul Playdowns in 1956, and as a lawn bowler was part of the 1964 General Motors Gold Cup winning team and district championship teams in 1971 and 1972.
---
Derek Keenan -
Lacrosse
Year Inducted: 2007
Home Town: Oshawa
More about Derek Keenan: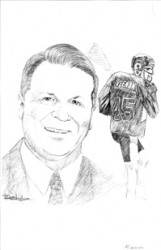 Oshawa native Derek Keenan began his life long passion for lacrosse back in the late 1960's in the Oshawa Minor Lacrosse Association. Derek moved on to excel as a player with the Oshawa Green Gaels, and then with the Brooklin Redmen. A three time All-American at Ithaca College, Derek turned professional, playing with the Buffalo Bandits and the Toronto Rock. During his amateur and professional careers, Derek won countless individual awards, including the O.L.A. Scoring Championship and Most Valuable Player awards in 1987 and 1988. He was the Major Indoor Lacrosse League Rookie of the year in 1992 with Buffalo. Derek helped lead his teams to numerous championship titles, including three Mann Cups, two Major Indoor Lacrosse League Championships, and one National Lacrosse League Championship. He also starred with the Canadian Men's Field Lacrosse Team at the World Championships in 1986, leading Canada to a Silver Medal. After his playing days ended, Derek began a highly successful professional coaching career in the National Lacrosse League, while still finding time to coach youth at the minor lacrosse level in the off season. Derek Keenan's accomplishments and dedication to his sport at the grass roots, amateur, and professional levels have earned him his rightful place in the Oshawa Sports Hall of Fame.
---
Donald Bracey -
Fastball
Year Inducted: 2012
More about Donald Bracey: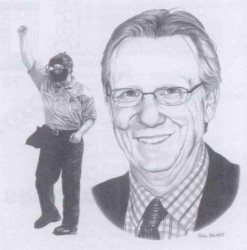 Recognized as a prominent fastball umpire with an honest but no-nonsense approach to the game, he gained the respect of teams with his consistent and reliable ability. Don honed his skills in the Oshawa City and District Fastball League and Ontario diamonds at OASA, PWSA and ISC tournaments. In 1989 Don was granted International umpire status after officiating the Canadian Senior Men's Fastball Championship. During his twenty-five year career, Don umpired seventeen Ontario Softball Championships, six Canadian Fastball Championships, and represented Canada at the 1996 and 2002 ISF Senior Women's World Fastball Championships, and the 2003 pre-Olympic Qualifier. Off the field he was actively involved in local, provincial and national umpire programs mentoring all levels of umpires. As Softball Ontario's Deputy Umpire-in-Chief from 1990 - 1995, he started many new initiatives to help train and evaluate umpires. In 1996 Don moved, for seven years, to Softball Canada's Officials Development Committee as a National Deputy Umpire-in-Chief. His greatest impact on the Canadian program is attributed to his ability to write umpire related articles and training materials, most notably the world popular Softball Canada Umpire Case Book. Don supervised seven Canadian Championships and one Canada Summer Games. For his exemplary career as an umpire and volunteer, Don has received numerous awards including a lifetime membership with the Durham Region Umpires Membership, Softball Ontario's Jim Bradford Award and in 2003, Softball Canada's Umpire of the Year. He was inducted into the Softball Canada Hall of Fame in 2009. Don would say enthusiastically that he had an incredible amount of fun. His greatest reward was the lifelong friendships made with executive members, players, fans, and umpires in Oshawa and across Canada.
---
Donald Jackson -
Figureskating
Year Inducted: 1986
More about Donald Jackson: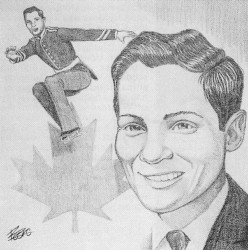 Few have accomplished more in the sport of figure skating than Donald Jackson, who took the continent by storm in 1959 by winning both the Canadian and North American championships. In 1962, he became a household name on the world stage by winning the World Championship after claiming the Canadian crown for a third time. It was at Pragues Fucik Arena in March 1962, that Jackson became the first skater to land a triple lutz in international competition. The international panel of judges responded by awarding Jackson seven perfect marks, the first time that feat had ever been accomplished in singles competition. He had progressed a long way since joining Oshawa Skating Club for the 1948 winter session. In 1962, Jackson won the Lou Marsh Trophy as Canadas Outstanding Athlete of the Year and was also inducted into the Canadian Sports Hall of Fame. Among the awards he most cherishes is the British Broadcasting Company (BBC) International Athlete of the Year Award in 1962.
---
Donald McIlveen -
Multi Sport
Year Inducted: 2001
More about Donald McIlveen: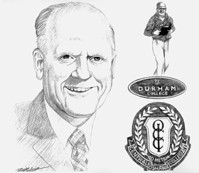 While a member of the teaching staff from 1950 - 1981, Don McIlveen coached the Central Collegiate Chiefs to 10 COSSA titles in basketball, 4 titles in football, and 1 all-Ontario championship in rugger, as well as many tournament wins. Upon retirement from teaching in 1981, he continued as a volunteer coach in girls' basketball at G.L. Roberts and Eastdale Collegiates, winning 3 LOSSA championships. During this period he also coached for four years at Durham College, winning an OCAA Tier II championship with the men's basketball team in 1989, and repeating a year later with the women's basketball team. In 1997, in his last coaching venture, Don led the Durham Mercants' Midget Girls' Team to an OBA championship. In 1986 Don was awarded the prized Peter Beach Award for outstanding contributions to high school athletics by OFSSA, the governing body of school athletics in Ontario. Don has been an outstanding builder of young men and women in Oshawa.
---
Donald Walker Rowden -
Multi Sport
Year Inducted: 1986
Home Town: Oshawa
More about Donald Walker Rowden: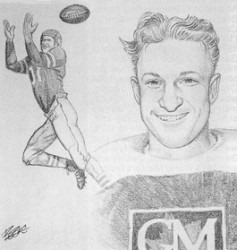 A star at virtually every sport he attempted, 'Doc' once turned down a professional offer from the Toronto Maple Leafs. He was playing for Oshawa General Motors seniors at the time, a club that reached the Ontario Hockey Association final in 1939. A year earlier, Rowden coached Oshawa Generals juniors to the Memorial Cup final, where they lost to St. Boniface, Manitoba Seals. In 1936, he was a fine outfielder with the OHA Intermediate Champions, Oshawa Chevies. An all-round athlete, Doc played for the 1936 Oshawa team which won the All-Ontario Senior Baseball Championship, and played for Oshawa in the Intermediate Provincial Softball final in 1932. From 1928-30, he was a fine open field runner with Oshawa Blue Devils of the Ontario Rugby Football Union Intermediate circuit. He helped the Blue Devils win two Ontario titles.
---