Barb Boyes -
Lacrosse
Year Inducted: 2010
Home Town: Oshawa
More about Barb Boyes: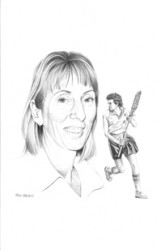 Barb Boyes has been a driving force behind girls field lacrosse both in Durham Region and across the province of Ontario for more than 25 years. Born in Oshawa, Boyes helped Canada win a bronze medal at the 1982 World Cup in England and moved into the provincial coaching ranks in 1989, guiding Team Ontario for a decade until 1999, winning Canadian championships in 1994, 1996 and 1997. She served as an assistant coach with Team Canada at the 1989 World Cup in Australia and then took over as head coach of the national team in 1990, serving in that role until 1993. In addition to her success, Boyes has been instrumental in the development of the sport throughout high schools in Durham and through the creation of the Oshawa Lady Blue Knights field lacrosse club. Boyes, who started her phys-ed teaching career in 1985 helped create the high school league that is now sanctioned by Lake Ontario Secondary Schools Athletics. Boyes introduced the Blue Knights program in 2000, starting with a three team house league and is now the largest girls field lacrosse program in the country, with over 400 players, numerous house league teams at all age divisions along with a very successful rep program. Boyes takes great pride in the number of opportunities the program has provided for its athletes to go on and play on NCAA scholarships, and on National Teams. She was inducted into the Ontario Lacrosse Hall of Fame in 1999 and was recognized by the International Federation of Womens Field Lacrosse Association in 2007.
---
Barb Loreno -
Swimming
Year Inducted: 2013
Home Town: Oshawa
More about Barb Loreno:

Oshawa born Barb Loreno is considered to be the city\'s \"First Lady\" of swimming.Barb first served notice of her prowess in water competing at the Canadian National Exhibition in 1949, finishing fifth in the World Five Mile Marathon Swim.From there she continued to put Oshawa on the swimming map when she attempted Lake Ontario crossings in 1975 and 1976, trying to become the first grandmother to complete the marathon. In 1975 she came within four miles of completing the swim before being pushed back by strong winds, as documented by the Ontario Association of Solo Swims. She succumbed to a similar fate in 1976.Undeterred, Barb kept making waves, winning hundreds of medals competing in Masters Games from 1978 to 1992, winning hundreds of medals and ribbons in age group swimming. Another highlight came in 1985 when she won two silver medals and three bronze at the First World Masters Game.In addition to her competitive swimming, Barb aided Jim Kinlin with the annual \"Jim\'s Swim\", which raised more than $220,000 for leukemia research from 1977 to 1992. She was a tireless volunteer and community worker who also raised the awareness for the need for an indoor recreational pool in the south end of the City.
---
Barbara Underhill -
Skating
Year Inducted: 1986
Home Town: Oshawa
More about Barbara Underhill: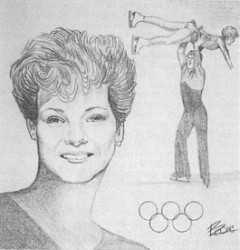 Barbara Underhill's tears of sadness turned to tears of joy in a 38-day stretch of winter in 1984. After a fall, Underhill and Paul Martini finished seventh in the pairs figure skating competition at the 1984 Olympic Games in Sarajevo, Yugoslavia. Just over five weeks later, however, Underhill and Martini thrilled a capacity crowd at Ottawa's Civic Centre with a first-place finish at the 1984 World Figure Skating Championships. The world title was the crowning achievement for a partnership which began in 1977. A year later, they won both the Canadian Junior Nationals and World Junior Nationals and World Junior competition. They won the Canadian Senior Nationals for 1979-83 inclusive and finished 11th (1979 and 1980), seventh (1981), fourth (1982), and third (1983) at the Worlds before striking gold. Underhill, a graduate of Oshawa Figure Skating Club, and Martini, also finished ninth at the 1980 Olympics.
---
Beatrice (Bea) Ross-Kotelko -
Bowling
Year Inducted: 2006
Home Town: Lansing, Michigan
More about Beatrice (Bea) Ross-Kotelko:

Beatrice (Bea) Ross-Kotelko is inducted into the Oshawa Sports Hall of Fame for her high level of excellence in 5-pin bowling. Born in Lansing, Michigan she was a resident of Oshawa for 92 years! Bea passed away in 1998. Bea was a participant in the Motor City Bowling League from 1949 - 1974. Bea won the Eastern Ontario Woman's Title 3 times. After capturing it twice in a row, she was given the Molson Cup to keep in 1955. Bea represented the Oshawa area in the Sportsmans Show competitions in 1954 and 1955. She was also a C.B.C. 5-Pin bowling show participant in 1956. Bea was inducted into the Ontario 5-Pin Bowlers Association Hall of Fame in 1987. She shared her love of the sport and founded the Youth Bowling Council in the 1950's. Bea organized, instructed, coached and supervised mixed leagues from Bantams to Seniors. She won a high singles award in a men's tournament in Belleville in 1954, and was also named a Canadian Bowling Association representative. In 1954, Bea opened the 'Men's' Tournament for eastern Canada in Campbellford, Ontario bowling a strike in each alley. In 1955, after losing the Sportsmans Show competition by one pin, sports columnist Dick Brett of Hamilton was moved to write this poem: Here's to Bea Ross who didn't win, The Molson Classic by a single pin, For she accepted defeat with a smile and grin, That belied the heartache she must have felt within, So hats off to the gal, who in losing won, The hearts of the spectators, every one.
---
Benj Fallman -
Track and Field
Year Inducted: 1986
Birth Date: February 18, 1895
More about Benj Fallman:

Born and educated in Sweden, Benj arrived in Oshawa in 1934, and besides being a national class competitor, was instrumental in organizing track and field in Oshawa. He won five Swedish championships in the 1930\\\\\\\'s, was a 13-time Canadian Champion in the years 1937-63, and won 16 Ontario titles from 1935-60. Benj, who was the originator of the Shamrock Track and Field Club which produced so many fine competitors over the years, also won 16 YMCA championships from 1953-63. He also was instrumental in the organizing of the Oshawa Ski Club, and later was an instructor with the Club.
---
Bill Dell -
Football
Year Inducted: 1986
Home Town: Oshawa
More about Bill Dell: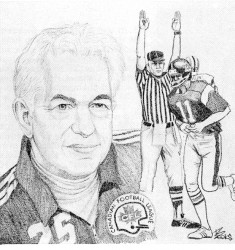 A Canadian Football League (CFL) official for 23 years, Oshawa-born Bill Dell was a member of six Grey Cup final officiating crews. He began his CFL tenure in 1958, working on the yardsticks and downs box - and three years later graduated to become an on-field official. His first Grey Cup game was the 1963 championship between the Hamilton Tiger Cats and the B.C. Lions. He also officiated in the 1971, 1974, 1976, 1977 and 1981 finals. Dell, who was offered a tryout by the Saskatchewan Roughriders in 1945, was a halfback with Oshawa Collegiate and Vocational Institute (OCVI), Oshawa Red Raiders Juniors, and Queens University. He became referee-in-chief of the Ontario Football Conference junior league a year after his retirement from the CFL in 1981. Dell, who also played Junior B hockey and senior baseball in Oshawa, was a co-founder of both the Oshawa Football Officials Association and Oshawa Basketball Officials Association. Bill was the son of Cy Dell, a well-known local baseball umpire.
---
Bill Hamilton / Lance Pugh -
Cycling
Year Inducted: 1987
Home Town: Oshawa
More about Bill Hamilton / Lance Pugh: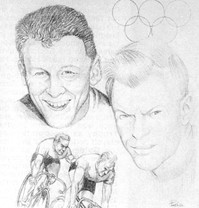 The Oshawa pair of Bill Hamilton and Lance Pugh, both members of the Victor Cycle Club, Oshawa, brought honour to their native city at the 1948 Summer Olympics in London, England. Bill Hamilton, born in Oshawa in 1930, was just 18 at the time of the London Olympics. Like Lance, he won many Ontario and Canadian Championships all leading up to his Olympic appearance in 1948. After the Olympics, Bill represented Canada once again; this time at the British Empire Games in New Zealand in 1950. In these trials leading up to the Empire Games, he received the Outstanding Sportsmanship Award. Lance Pugh, born in Oshawa in 1919, had a long distinguished cycling career. He captured many Ontario and Canadian championships as well as winning the 25 mile Buffalo City Championship and the half mile Toronto Championship in 1940. His crowning achievement however, was his captaincy of the 1948 Canadian Olympic Cycling Team.
---
Billy Goulding -
Boxing
Year Inducted: 1990
Birth Date: March 18, 1931
Home Town: Oshawa
More about Billy Goulding: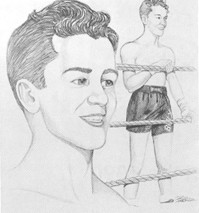 Billy "The Kid" Goulding, born in Oshawa on March 18, 1931, started his amateur boxing career in 1946 at 15 years of age, with the Oshawa Amateur Athletic Club. Billy won 60 of his 65 bouts either by knockouts or by unanimous decisions. As a result, Billy "The Kid" was rated as one of Canada's best amateur welterweights and won the main event of numerous boxing cards across the Province of Ontario. Unfortunately for many of Billy's opponents, they ended in a horizontal position. Opponents had difficulty slipping or ducking Goulding's jolting left hook and explosive right cross. In his prime, the angelic-faced Goulding displayed excellent co-ordination, power, inexhaustible determination, grit, discipline and ring savvy beyond his years. These credentials, along with his ability to throw pile-driving punches with regularity, earned Billy Goulding the following achievements: 1946-1949 - Ontario Welterweight Championships1947 - Canadian Welterweight Championship - Finalist1948 - Canadian Olympic Trials - Finalist1949 - British Empire Games - Finalist
---
Billy Taylor -
Hockey
Year Inducted: 1986
More about Billy Taylor: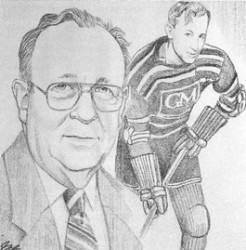 A brilliant play-making centre, Billy captained Oshawa's Memorial Cup winning squad in 1938-39. Earlier, the Generals had captured the Ontario Hockey Association (OHA) junior title and the Eastern Canadian junior crown. The OHA championship was one of three won by the Generals while Taylor served them as a player. Billy, who scored nine points for the Generals in a Memorial Cup game against Edmonton, led the OHA in scoring in both the 1936-37 and 1938-39 seasons. He turned professional with the Toronto Maple Leafs of the National Hockey League on his 20th birthday. He also played in the NHL for the Detroit Red Wings, Boston Bruins and the New York Rangers - and while playing for Detroit he set an NHL record for assists in a game with seven. Billy, nicknamed the 'Blond Bomber' during his playing days, later worked as a scout for a number of NHL clubs.
---
Bruce Langmaid -
Dog Sled Racing
Year Inducted: 2008
Home Town: Oshawa
More about Bruce Langmaid: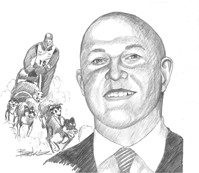 Bruce Langmaid, Oshawa native and sled dog racer, has won eight provincial, nine national and twelve international races. Bruce has competed in races as short as the four-file, four-dog, and as long as the 1000-mile, two week Yukon Quest rated "the toughest sled dog race in the world". His specialties are the 250-mile and 60-mile events where he has set many course records through extremes of weather and terrain. Highlights of Bruce's career have been racing up the Yukon River under the Northern Lights with legendary musher Frank Turner, and racing across the Continental Divide with the most famous musher of all time, Susan Butcher. Love and care of the dogs come first and foremost in sled dog racing. A long distance musher is athlete, coach, trainer, nutritionist, strategist and psychologist. Extraordinary physical and mental stamina is required. Fighting sleep deprivation and exertion, the musher battles the elements with strong self-reliance, support of the dogs and fellow competitors. The camaraderie and sportsmanship are remarkable. The dogs' trail sense, athleticism, perseverance and team mentality, plus the judgment of each team's "star dog" can impact survival under very hazardous conditions. The high level of accomplishments of Bruce and his dogs, ably supported by family and friends over 25 years, warrant his induction into the Oshawa Sports Hall of Fame.
---