Douglas Arthur (Woody) Woodstock -
Skiing
Year Inducted: 2000
More about Douglas Arthur (Woody) Woodstock: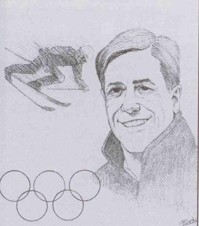 Born in 1951, Doug started skiing at the age of 5 at the Oshawa Ski Club. At age 18, Doug was selected for the National Ski Team, racing on the Can-Am circuit. His first big win came at Waterville Valley, U.S.A., winning the Corcoran Cup slalom event. In 1971 Doug went to Europe as a member of Canada's elite World Cup Team. One month before the 1972 Olympics in Sapporo, Japan, Doug had a serious accident, and injuries ended his dream for an Olympic medal. At 22 years of age, Doug was the top Canadian on the professional grand prix circuit. For 8 years, he was consistently placed in the top ten. He was the most outstanding skier in the combined slalom and giant slalom events in Montreal, during the 1975/76 season, and was an impressive 7th overall in the world standings in the 1976 season. He was elected president of the International Ski Racers Association by his fellow competitors in 1977.
---
Douglas Brown -
Harness Racing
Year Inducted: 1998
Birth Date: September 11, 1955
Home Town: Oshawa
More about Douglas Brown: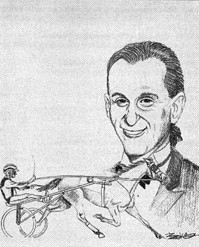 Born in Oshawa on September 11, 1955, Doug followed a rich family tradition of harness drivers, obtaining his licence at age 17 and registering his first career win. Doug's exemplary career includes innumerable victories in stake events across North America. Between 1988 and 1997 Doug won twelve Ontario Jockey Club 'Driver of the Year' awards, and seven O'Brien awards for 'Canadian Driver of the Year'. In 1989 Doug was the first driver to surpass purses totalling $4 million and in 1995 he passed the $5 million mark, while breaking his own record with 423 wins. In 1997 Doug had 307 victories and purses totalling $3.6 million. He received the prestigious 'Messenger' award presented by the Harness Tracks of America for outstanding contributions and achievements in harness racing. Doug's Annual Celebrity Golf Tournament and his 'Drive for Easter Seals' have totalled over $123,000.00. In 1998, 'Brownie' surpassed the 7,000 victory plateau.
---
Dr. Margo Mountjoy -
Synchronized Swimming
Year Inducted: 2011
Home Town: Oshawa
More about Dr. Margo Mountjoy: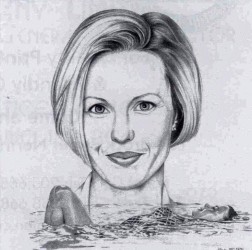 Dr. Margo Mountjoy, who was born in Oshawa in 1961 and graduated from Eastdale Collegiate, was a frequent visitor to the medal podium in synchronized swimming. Dr. Mountjoy and her teammates won five Ontario gold medals, two Canadian silver medals and three bronze medals, plus two gold medals at an international competition in Denmark. After her competitive swimming days, she graduated from medical school at McMaster University and continued to contribute to sport in Canada and worldwide. Dr. Mountjoys contributions are many, highlighted by serving on the IOCs Medical Commission. She attends summer and winter Olympic Games conducting research, and supervising medical and anti-doping programs. She is also the Chair of the FINA (aquatic) Medical Committee and is responsible for the health of aquatic athletes worldwide. She is the doctor for the Canadian Olympic Synchro Team and the National Endurance Training Centre (athletics). She is a consultant for the University of Guelphs Health & Performance Centre and is on faculty at McMaster Universitys Medical School. Dr. Mountjoy publishes her research and lectures around the world on the health of athletes. Dr. Mountjoy has been recognized by the Canadian Association for the Advancement of Women in Sports as one of the most influential women in Canadian sport.
---
E.R.S. (Dick) McLaughlin -
Sailing
Year Inducted: 1991
Birth Date: February 13, 1926
Home Town: Oshawa
More about E.R.S. (Dick) McLaughlin: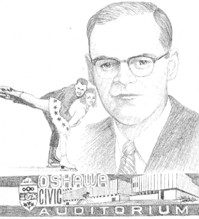 Born in Oshawa on February 13, 1926, Dick brought honour to his city as both a player and builder. Retiring from competition, he continued his involvement with the sport as an International Judge from 1954 to 1960, including the 1958 World Championships in Cortina, Italy. A versatile sportsman, he also excelled in sailing capturing the 1962 Canadian Albacore Sailing Championship, the 1967 Mid-winter Albacore Sailing Championship and, along with his daughter Rosemary as crew, third place in the North American Albacore championships. As President of the Oshawa Civic Auditorium Board of Directors, he was instrumental in bringing phases 1, 2, 3 and 4 of the facility to fruition.
---
Earl F. (Peg) Hurst -
Baseball
Year Inducted: 1986
Birth Date: December 12, 1911
Home Town: Oshawa
More about Earl F. (Peg) Hurst: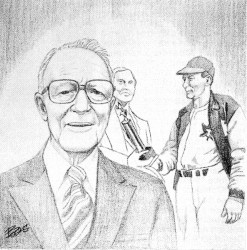 Born in Oshawa 13 days before Christmas in 1911, Earl (Peg) Hurst advanced through the minor ranks in Oshawa and was on the Oshawa General Motors team which won the Central Ontario Baseball League Championship in 1936. He was also a "triple threat" as president-manager-player with the Oshawa team which captured the Inter-City Baseball League title in 1940. That season, "Peg" became the first winner of the Tony Lazzeri Trophy as the leagues most valuable player. Lazzeri, a graduate of the great New York Yankees organization, was manager of the International Leagues Toronto Maple Leafs at that time. Hurst was also on a pair of provincial championship teams in the sport of softball as a member of the Mikes Place juniors in 1931 and the Oshawa Colts in 1943. "Peg" became an Ontario Hockey Association referee and officiated two games at the 1949 Memorial Cup junior (Canadian) championships.
---
Ed Aru -
Football
Year Inducted: 2014
Home Town: Oshawa
More about Ed Aru:

Born and raised in Oshawa, Ed is a graduate of Ritson Road Public School and Donevan Collegiate. He started his career with the city's first junior football team, the Oshawa Imps, in 1959. He played when the Imps became the Oshawa Hawkeyes in the 1960's, moved into the coaching ranks in the 1970's before taking over as president, while also holding other team executive positions into the 1990's. In addition to junior football, Ed was instrumental in overviewing the development of a house league program and rep teams at the tyke, atom, peewee, bantam and midget levels.Ed Aru's name has been synonymous with football in Oshawa for a half-century.
---
Eddie Westfall -
Hockey
Year Inducted: 1986
More about Eddie Westfall: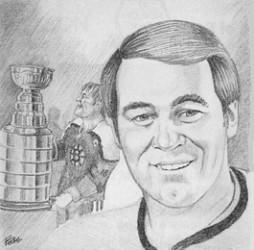 Eddie was the first player to graduate from the Oshawa Minor Hockey system who went on to play for a Stanley Cup winning team. He was an integral part of the Boston Bruins' National Hockey League championship teams in 1969-70 and 1971-72, and played 1,227 regular season games over an 18-year NHL career. Westfall scored 231 goals and drew 394 assists in those games, and also played in 95 play-off games, scoring 22 goals and 37 assists. Noted for his fine leadership qualities, Westfall was named captain of the expansion New York Islanders after being selected in the 1972 expansion draft. He scored the Islanders first NHL goal and captained the New York club for four and one-half seasons. When he retired following the 1978-79 season to accept a public relations position with the Islanders, the club retired his number 18.
---
Edward (Ted) Stone -
Baseball
Year Inducted: 1996
More about Edward (Ted) Stone: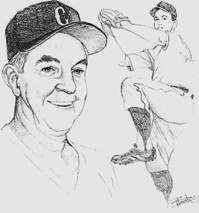 Stoney began his pitching career with the Oshawa Legion, Branch 43, Baseball Association in 1946. In 1953, while playing for the Oshawa Merchants of the Inter County League, Ted was scouted by the Boston Red Sox. He signed a contract and became the first Oshawa native to play professional baseball. He played for the Corning, New York, Red Sox Team in 1954, where his pitching record was 15-2. Ted moved up the ladder to Greensboro, North Carolina in 1955, posting a 13-8 win/loss record. In 1956, again returning to Greensboro, he achieved a 13-9 record. Ted moved to Albany, New York in 1957, where he pitched mainly in relief. Having obtained his release from Boston in 1958, Ted returned to Oshawa to play semi-pro ball with the Merchants. Ted began coaching baseball in Oshawa during the 1960's and is still actively involved in that capacity, as well as being a consultant for the Oshawa Minor Baseball Association.
---
Edward Patrick (Ted) O'Connor -
Multi Sport
Year Inducted: 1987
Home Town: Oshawa
More about Edward Patrick (Ted) O'Connor: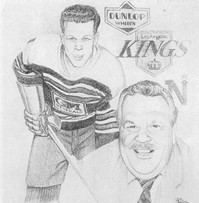 Edward Patrick (Ted) O'Connor, born in Oshawa in 1930, was a multi-talented athlete who starred for Oshawa in hockey, baseball, lacrosse and fastball. Ted played for the Oshawa Generals from 1947 to 1951 and coached and managed the team in 1966-67. The highlight of his hockey career was playing defence for the Whitby Dunlops, who won the Allen Cup National Championship in 1957 and 1959, and the World Championship in 1958 at Oslo, Norway. He was a teammate of Hall of Famers Wren Blair, Bobby Attersley and Harry Sinden. In baseball Ted won three batting championships in three separate leagues in Ontario. In 1967, he became the first chief scout of the Minnesota North Stars of the N.H.L. and later became head scout of the Los Angeles Kings. At the time of his induction, Ted had served for eight years as head scout with the Kings.
---
Effie Madeline Hezzelwood -
Curling
Year Inducted: 1986
More about Effie Madeline Hezzelwood: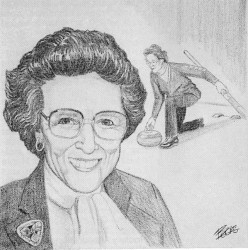 Hailed as the grand dame of Southern Ontario ladies curling, Effie Hezzelwood competed on Tankard-winning (Ontario championship) rinks in 1959 and 1960, contributed to Ontario Senior championship quartets in 1967 and 1971, and was part of the Diamond Senior Competition winning foursome in 1983. An active member of both the Oshawa Golf Club and Oshawa Curling Club, Effie served as the latter outfits president, and was chairman of the Ladies Committee for the Macdonalds Brier Tankard in Oshawa in 1969. In 1983, she was the recipient of the Labatt Award for her contribution to curling, and in 1986 was presented with the Canadian Ladies Curling Association Award for dedicated and outstanding service. No stranger to other sports, Effie finished second with an 839 triple in the ladies singles event at the Canadian Five-Pin Bowling Association Championships in 1945, and also helped a Motor City Bowl team from Oshawa finish second in the team event.
---