Gaylord Powless -
Lacrosse
Year Inducted: 2015
Home Town: Oshawa
More about Gaylord Powless:
In most any centre when lacrosse became a discussion, in most every case the attention would turn to Gaylord Powless, considered one of the best to ever hold a stick. While a resident in Six Nations, highly-touted lacrosse coach Jim Bishop came calling in 1964 and coaxed this natural phenom to load up the suitcase and play junior with the Oshawa Green Gaels.The transition to a competitive junior level was a natural for Powless, who helped the Gaels to Canadian Minot Cup titles from 1964 to 1967. Indeed, he was recipient of the Jim McConaghy Memorial Trophy as the Minot Cup's most valuable player in both 1964 and 1967. His contribution and respect gained over the years translated to Powless receiving the Commemorative Medal for the 125th anniversary of Canada's Confederation in 1992.He paid his dues and then some, dating back to his earlier days at Six Nations when Powless won the Tom Longboat Award as the First Nations athlete of Canada when he was only 17 years of age.Powless, following junior, turned his lacrosse attention to professional and senior levels and was later recognized during his induction to the Canadian Lacrosse Hall of Fame in 1990 and becoming one of the first inductees into the Ontario Lacrosse Hall of Fame at St. Catharines in 1996.
---
George Brabin -
Multi Sport
Year Inducted: 2006
Home Town: Oshawa
More about George Brabin: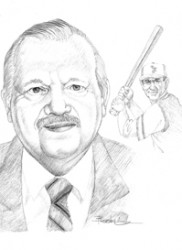 George Brabin, a lifelong resident of Oshawa, was truly an all-round athlete who excelled in four sports: Baseball 1951 - Peterborough Petes - Senior A Viaduct League, league leading .420 batting average 1952 - Signed professional contract with the Brooklyn Dodgers - played for Cocoa Indians of the Florida State League 1953 - Oshawa McCallum Transporters; All Ontario Champions 1955 - Whitby Larry B.A.'s; All Ontario Champions 2000 - Selected to Oshawa's Baseball Team of the 1950's & the Century as a left fielder Softball 1962 - Oshawa Pic-O-Mats; All Ontario Champions 1963 - Oshawa Bad Boys; All Ontario Champions Hockey 1947 - St. Catharines Lions; All Ontario Juvenile Champions (borrowed from Oshawa's Beaton's Dairy Team) 1948 to 1955 - Played Junior B in Oshawa, Junior A in Winnipeg, Senior B in Peterborough and Intermediate in Bowmanville Bowling 1968 - Ontario Ten Pin Singles Champion - Fifth at Canadian Championship 1988 - Inducted into Oshawa & District Ten Pin Bowling Hall of Fame 2000 - 'Participation Award' from American Bowling Congress, awarded for bowling in forty national tournaments After his playing days, George coached the Tony's Fastball Club. He was Treasurer of the Oshawa Legionaires Junior Hockey Team and served on the Oshawa Sports Hall of Fame Selection Committee. With six All Ontario Championships to his credit, George is a very worthy inductee into the Oshawa Sports Hall of Fame.
---
George Henry Campbell -
Softball
Year Inducted: 1986
Home Town: Oshawa
More about George Henry Campbell: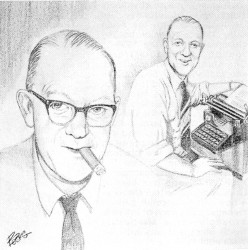 A prolific writer about, and energetic booster of sports in Oshawa, George spent 42 years with The Oshawa Times as first a sports writer, and then sports editor. The recipient of numerous awards, George coached three Ontario ladies softball champions. He played on the Oshawa Colts softball team which won Ontario Intermediate "A" championships in 1942 and 1943. He was also a member of the winning rink at the Governor Generals Cup (Ontario curling championship) competitions of 1951 and 1955. He served as president of the Ontario Amateur Softball Association in 1949-50, was president of the Oshawa City and District Softball Association in 1939-40, presided over the Oshawa Minor Softball Association in 1948, and is also a past president of the Oshawa Curling Club. George is also widely believed to have nicknamed Oshawas junior hockey team the "Generals".
---
George Jackson and the late Jack Hunter -
Lawn Bowling
Year Inducted: 2005
More about George Jackson and the late Jack Hunter:

In 1959, George H. Jackson and the late Jack H. Hunter, who were long time members of the Oshawa Lawn Bowling Club, decided to compete together as a Doubles team. Both were very skilled bowlers and it was felt their talents would compliment each other in Team competitions. That year, they won the right to represent the Oshawa Club and won their surrounding area competitions. They then moved to the next level and won the District 14 Men's Doubles Championship played in Belleville. In 1960, Jack and George again represented Oshawa and won the District 14 Men's Doubles Championship. This win qualified them to compete in Toronto against teams from the other 15 districts in the Ontario playdowns. They won this tournament and became the Ontario Provincial Champion representative in the Dominion of Canada Championship Games held in Edmonton, Alberta. Jack and George tied their first game and then won all the remaining games to become the 1960 Canadian Men's Lawn Bowling Doubles Championships. Jack Hunter and George Jackson had won the highest National Award that a Canadian bowler can achieve. Achievements of this magnitude can only be attained by athletes with tremendous skill, poise, perseverance and stamina. Their Gold Medal performance will always be remembered, and their excellence in competitive sport is now being part of Oshawa's proud Hall of Fame heritage.
---
Gil Hughes -
Hockey
Year Inducted: 2014
More about Gil Hughes: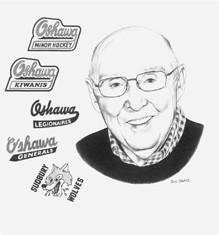 Prior to turning his attention towards hockey, Gil was a member of the training staff of the Ottawa Rough Riders in the Canadian Football League for 17 years. Since 1977, he has coached various teams in the Oshawa Minor Hockey Association and the Oshawa Legionaires Junior B organization. Gil was coach of the Oshawa Kiwanis Midget Club from 1985 to 1992, graduating dozens of players to the Ontario Hockey League, many of whom went on to play in the National Hockey League. With Kiwanis, his teams won three Ontario Minor Hockey Association Championships and one All-Ontario Title representing the Province at the Canadian Midget Championship held in Thunder Bay in 1987. Gil had a knack for bringing out the best in young players and developing them to their fullest potential. He was not only a great character, but also a builder of character in young men. His scouting career has included 23 years with the Oshawa General and he was a member of the staff that won the Memorial Cup in 1990. He continues to scout today for the Sudbury Wolves. In 2008, Gil received the Bill Long Award in recognition of his outstanding contributions to the Ontario Hockey League. In 2013 he was honoured as a Lifetime Member of the Oshawa Minor Hockey Association.
---
Gloria Anne Campbell -
Curling
Year Inducted: 2005
Home Town: Oshawa
More about Gloria Anne Campbell:

Gloria Campbell (nee Moss) has proven to be a highly successful competitive curler. Born in Oshawa in 1943, Campbell attended King Street Public School and O'Neill Collegiate. In 1962 she married Whitby resident Barry Campbell and the couple moved to the Burlington area and later to St. Catharines. Gloria started curling in 1975 and since 1983 has competed in 34 provincial finals, winning twelve provincial championships. Campbell also coached junior women's teams to the provincial finals in 1998 and 1999. She represented Ontario in the 2003 Canadian Women's Championship, the Scott Tournament of Hearts. Gloria has the distinction of being the only senior curler in Canada to have won five Canadian Senior Championships in 1996, 2001, 2002 and 2004; and runner up in 1997. Campbell was also named first team all-star at the 1996 and 1998 Canadian Senior Championships and tied for all-star second stone in 2004. Gloria and her team members won the World Senior Championship in 2002 at Bismarck, North Dakota, and in 2004 at Gavle, Sweden. They also represented Canada at the Senior World Championship in Paisley, Scotland in March 2005. Gloria Campbell's achievements and dedication to the sport of curling truly earn her a spot in the Oshawa Sports Hall of Fame.
---
Gord Garrison -
Sports Broadcasting
Year Inducted: 2016
Birth Date: July 31, 1924
Home Town: Oshawa
More about Gord Garrison:
Gord Garrison was a broadcasting pioneer who lived in Oshawa from 1948 until the time of his death in May 2009. Born July 31, 1924 in Manitoba, Gord settled in Oshawa in the late 1940's and soon became a familiar voice on the airways, bringing local, national and international sports coverage to southern Ontario. In 1958, he became the owner and operator of CKLB AM and FM, where he continued to ensure Durham sports fans were made aware of the excellence in the community.He was the voice of the Oshawa Generals from 1948 through the mid-60's and now has the press gondola at the General Motors Centre named in his honour. His work went far beyond that however, as he was also the ring announcer for professional wrestling in the 1940's and 50's at Oshawa's Hambly Arena and other local venues, the stock car race announcer at James Park in north Oshawa, a periodic announcer for the Oshawa Green Gaels lacrosse team in the 1960's, and the play-by-play voice across Canada for the 1958 world hockey championships in Oslo, Norway - where the Whitby Dunlops won gold.Gord was innovative and entrepreneurial, as evidenced by hiring an aircraft and pilot to enable him to report live, Marilyn Bell's famous swim across Lake Ontario in 1954, and obtaining the exclusive rights in Southern Ontario to broadcast the Montreal Expos when Major League Baseball expanded to Canada in 1967.
---
Gordon Albert Terwillegar -
Lawn Bowling
Year Inducted: 2000
Home Town: Oshawa
More about Gordon Albert Terwillegar: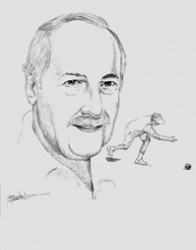 A lifetime resident of Oshawa, Gordon joined the Oshawa Lawn Bowling Club in 1969, serving as secretary for five years and as president in 1989. He implemented a program for juniors, coaching several to provincial championships. He was president of the Provincial Lawn Bowling Association, Men's Section, and was involved in the amalgamation of the Men's and Women's Associations at the national, provincial and club levels. He was Director for Ontario to the National Association from 1987-1990, and a member of the National Association from 1989-1995. Gordon coached the men's team that won silver in fours and bronze in pairs at the 1992 Men's World Bowls in Worthing, England. He was elected to the Executive Committee of Lawn Bowls Canada in 1991, vice-president in 1993, and president 1995-1997. Although Gord's contributions were heavily weighted towards coaching and administration, as a player, he was twice a member of the men's fours team that won the Oshawa Gold Cup.
---
Gordon Mackenzie Myles -
Hockey
Year Inducted: 2009
Home Town: Oshawa
More about Gordon Mackenzie Myles: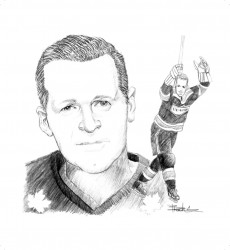 Gordon was born in Oshawa in 1931, and grew up in the College Hill area. He played with a number of Oshawa teams particularly 1946 on. In 1946-47 he played for the Oshawa Army Cadets who won the league championship. In 48-78, Gord was selected to the All Star Teams in Midget and Juvenile, and in the final Midget playoff game played in Barrie, he scored all 5 goals in a 7-5 loss. Returning to Oshawa he played for the Juveniles, scoring two goals. He moved up in 48-49 season to Junior B and led the team in scoring, playing with such stars as Bobby Attersley and Fred Etcher. 1949-50 saw him move up to Major Junior A playing for the Stratford Kroehlers. In 1950-52 he played for the Oshawa Generals and then St.Catherines. He was third in team scoring notching 29 goals and 27 assists for a total of 56 points in 46 games with the latter. In 1952, he turned pro and signed with the Cleveland Barons of the AHL and in his first year of pro hockey 52-53 Gord played for the New Haven Nutmegs of the EHL. He had a very strong rookie season scoring 40 goals and 37 assists for 77 points in 59 games. He was the leagues top scorer and was voted the teams most popular player by the fans. During 1953-54 his season was split between the Glace Bay Miners of the Maritime Major Hockey League and Valleyfield Braves of the Quebec Hockey League. Gord had another strong season tallying 25 goals and 25 assists in 54 games. The next year (1954) Gord was on the move again to North Bay where he played two seasons for the Trappers of the Northern Senior A League. After returning to Ohawa, he began playing with the Whitby Dunlops. In his four years with the team they won two Senior Championships (Provincial), Two Allan Cups (National), and a World Championship in Oslo, Norway. Gord was later an assistant trainer for the Oshawa Generals.
---
Gordon Samuel MacMillan -
Lawn Bowling
Year Inducted: 1986
Home Town: Oshawa
More about Gordon Samuel MacMillan:

Few lawn bowlers can match the achievements of Gordon Samuel MacMillan. Born in Oshawa, Gord won one Canadian Singles Lawn Bowling Championship (1966), two Ontario singles titles (1963, 1966), and was runner-up three times at the Ontario championships. He was also a gold medalist at the 1975 Ontario Summer Games. Gord joined the Oshawa Lawn Bowling Club in 1951 at the age of 18. A winner of numerous titles on the club circuit, Gord represented Canada at an international competition in Pretoria, South Africa in 1973 and was chosen to compete in the 1978 Commonwealth Games in Edmonton, Alberta. Tragically, Gord passed away two months before the competition was to begin. Also a fine curler, Gord was honoured by the City of Oshawa in 1966 for his lawn bowling achievements.
---