Elena Davydova -
Gymnastics
Year Inducted: 2016
Birth Date: August 07, 1961
Home Town: Russia
More about Elena Davydova:
Elena Davydova was born August 7, 1961 in Russia. She is the World Champion and the two time Olympic Champion in artistic gymnastics. While representing the Soviet Union, she scored a perfect 10 on floor and vault edging out Nadia Comaneci at the 1980 Olympics for all around title. Elena is also an International Brevet Judge and is a PHD in sports science. In May 2007, she was inducted into the International Gymnastics Hall of Fame. However, it is for her work as a coach and builder that has earned her recognition in Oshawa, where she has called home since 1991.As a Gemini coach for the past 25 years, and the head coach since 1999, she has amassed an astounding list of achievements and guided numerous athletes into elite level competitions and toward exciting post-secondary school opportunities. Under Elena's leadership, Gemini has produced 22 All-round Canadian Champions, 10 AA Elite Canada Champions, 21 Eastern Canadian AA Champions, and 113 AA Provincial Champions.Elena is recognized as one of the most successful Canadian coaches, placing athletes on the Canadian Team for major games and Championships since 1995. Gymnastics Canada and Gymnastics Ontario named Elena the high performance coach of the year in 1997, 2005, 2006, 2010, 2011 and 2013. In addition to the 2012 Olympics, leading the team to an historical 5th place, Elena coached the Canadian team at six World Championships, the Commonwealth Games, and Pan American Games, International Gymnastics Federation has invited her as an Expert for several International Academy coaching courses.As an International Category 1 Brevet Judge (highest international judging category) Elena has officiated at international competitions on four continents, including World Cups, major Games and World Championships. In 2005, she achieved the highest score of all Canadian Brevet judges on the international exam and in 2007 became the only Canadian to hold both Brevet coach and judge status for women's artistic gymnastics. Elena has been invited by the International Gymnastics Federation as the only Canadian representative to judge Women artistic gymnastics at the 2016 Rio Olympics.Gemini Gymnastics has become an internationally renowned club under Elena's leadership and has been recognized by Gymnastics Canada with its Club of Excellence award each year since its inception in 2003.
---
Eric Lindros -
Hockey
Year Inducted: 2016
Birth Date: February 28, 1973
Home Town: London
More about Eric Lindros:
Eric Lindros was one of the most dominant players to ever wear an Oshawa Generals jersey. Born February 28, 1973 in London, Ontario Eric came to Oshawa in 1990, at the age of 16. Physically well beyond most players his age, he proved to be an invaluable piece for a Generals team that went on to win its first Memorial Cup national title since 1944. He racked up 18 goals and 36 points in 17 playoff games and was named a Memorial Cup all-star.Lindros spent parts of three seasons with the Generals amassing 180 goals, 200 assists, 380 points and 437 penalty minutes in just 157 games. In 1991, although the Generals were upset in a spirited OHL final by the Greyhounds, Eric was named the junior player of the year for both Ontario and Canada. He also twice won gold with Canada at the world junior hockey championships in 1990 and 1991.His dominance carried into the NHL, where he became a member of the Philadelphia Flyers. He ended up playing 760 games over an injury-plagued NHL career with the Flyers, New York Rangers, Toronto Maple Leafs and Dallas Stars, scoring 372 goals and 865 points, and winning the Hart Trophy as MVP in 1995.Eric played on 3 Canadian teams at the Olympics winning gold and silver medals. He was also a member of Team Canada for over a decade during his playing career.In 2006, Eric became just the third player to have his number 88 retired by the Generals.
---
Francis (Frank) Leonard Bathe -
Hockey
Year Inducted: 1997
Home Town: Oshawa
More about Francis (Frank) Leonard Bathe: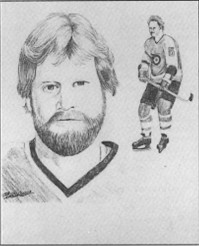 Frank was born in Oshawa in 1954 where he competed at all levels of minor hockey. While with the Junior B Oshawa Crushmen he won The Most Outstanding Player Award in 1970-71. From 1972 to 1974 Frank played Junor A with the Windsor Spitfires where he was the recipient of The Most Valuable Defencemen Award. Frank's professional career began in 1974 when he signed with the Detroit Red Wings of the NHL and continued with the Philadelphia Flyers. While with the Flyers, the 1979-80 Campbell Conference Champions, Frank won The Unsung Hero Award and The Barry Ashbee Most Valuable Defenceman Award. Frank also played for the Virginia Red Wings, the Port Huron Flags and the 1978 American Hockey League Champion Maine Mariners. Frank's career spanned 224 games of professional hockey before he was forced to retire due to injuries. In 1991, Frank was named assistant coach of the Maine Mariners and since 1993 he has been assistant general manager of the Portland Pirates.
---
Francis Noble McCallum -
Baseball
Year Inducted: 1993
Birth Date: October 25, 1902
Home Town: Toronto
More about Francis Noble McCallum: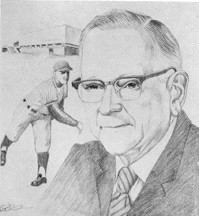 Frank, born in Toronto on October 25, 1902, is inducted as a builder for his involvement in amateur baseball and contribution to minor sports in Oshawa. Frank moved to Oshawa in December 1928 to become a member of Oshawa's General Motors Senior Baseball Club known as G.M. Men. Later he became manager of the club that won the Ontario Senior baseball championship in 1936. Among his accomplishments he was a director of the Toronto Maple Leafs Baseball Club in 1965, and the Central Ontario Baseball League in 1939. Frank was made an honorary member of the Royal Canadian Legion, Oshawa Branch 43, in recognition of his sponsorship and participation in youth level baseball from 1949 to 1988. He was president of the Oshawa Curling Club from 1952 to 1953 and a member of the Oshawa Civic Auditorium Board of Management in 1967 to 1968. Frank further served as an executive member in the presentation of the Canadian Curling Championships held at the Civic Auditorium in March 1969. Frank's name is held in gratitude by many athletes who participated under his leadership, guidance and sponsorship of sports in Oshawa. A very prominent member of the business community, he served as Mayor of Oshawa from 1946 to 1948 and as an Alderman from 1949 to 1952.
---
Frank Edward Ball -
Cycling
Year Inducted: 1996
Home Town: Oshawa
More about Frank Edward Ball: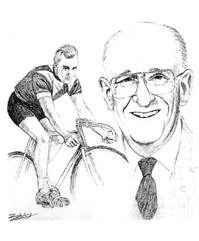 A lifelong resident of Oshawa, Frank excelled in the sport of cycling. As a member of the Victor Cycle Club, Frank won gold, silver and bronze medals in many Provincial, Canadian and International championships and competitions from 1935 until he retired in 1953. His active sporting career was interrupted by six years of service in the R.C.A.F. While representing Canada at the Caribbean Olympics in Georgetown, British Guiana, Frank received a special award from the Canadian Wheelman's Association for highest point total in all races during the 1949 season. Frank was a member of the selection team that chose cyclists for the 1956 Olympic Games as well as the British Empire Games in 1958. He was elected president of the Dominion Racing Board in 1958 and is a Life Member of the Canadian Cycling Association. His active participation as a player-builder in the sport of cycling ensures Frank a place in Oshawa's sporting history.
---
Frank Jay -
Hockey
Year Inducted: 2008
Home Town: Oshawa
More about Frank Jay:

Frank was born in 1950 in Oshawa and played in the Oshawa Minor Hockey system throughout his youth. He was the goal keeper on Oshawa's 1966-67 All-Ontario Midget AAA championship team. Frank turned his hockey efforts to scouting for the St. Catharines Black Hawks in 1973, and has since gained a reputation as one of the most astute Amateur scouts in his pursuit of Major Junior and College talent for National Hockey League Teams (NHL). Frank became the Oshawa Generals chief scout in 1976 and remained with the team for many years. During this tenure, the Generals led the Canadian Hockey League in NHL draft choices. Frank also held the title of General Manager when the Generals won the Memorial Cup in 1990. Throughout his Ontario Hockey League scouting career, which ended with the Erie Otters, he was associated with five championship teams. Frank has spent twenty-three years as a scout for NHL teams, including eleven with the New Jersey Devils and eight and a half with the Ottawa Senators as their Director of Amateur Scouting. He is presently scouting for the Montreal Canadiens. Many of his player selections went on to star in the NHL. Frank's lengthy and highly successful career in hockey makes him a distinguished Builder and honoured addition to the Oshawa Sports Hall of Fame.
---
Frank Sobil -
Bowling
Year Inducted: 2011
Birth Date: November 29, 1940
Home Town: Oshawa
More about Frank Sobil: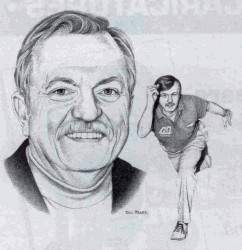 Frank was born in Oshawa on November 29, 1940. He was the first of four children for Frank and Goldie Sobil. His brothers and sisters are Larry, Lorna and Diane. In 1965 Frank married Marianne and had two children, Michael and Tracey. While attending school in Clearwater, Florida, Frank took up tenpin bowling. Upon returning to Oshawa, George Brabin enticed him to bowl in the Oshawa Classic League. In a span of 25 years, Frank was high average in the League four times and second nine times. In 1969, Frank teamed up with Herman Prakken to win the Ontario Championships 10-pin doubles events. In 1974 he won the Provincial All-Star event held in Oshawa. Then, in 1997 Frank qualified to be a member of Team Canada to bowl in the Tournament of Americas. In this Tournament, he won two silvers and two bronze medals. Franks best average was in 1998/99 when he averaged 209. Frank has two perfect games in 10-pin and one hole-in-one in golf at Pebblestone Golf Course. Franks other sport was soccer where he became a builder. He participated in the Darlington Soccer League winning Championships in both the Junior and Senior divisions while playing for Zion (Mitchells Corners). In 1975, Frank helped start up the Oshawa Kicks Soccer Club and became President of the Club from 1979 to 2006 and the Oshawa Soccer Council, 1994-2006. During this time, the Kicks won five Provincial Championships. The Kicks renamed their Annual Spring Tournament to The Frank Sobil Spring Classic and is now one of the biggest Tournaments in Ontario. In 2007, Frank was honoured with receiving the first Durham Region Soccer, Volunteer Recognition Award.
---
Fred Whalley -
Multi Sport
Year Inducted: 2009
Birth Date: January 29, 1934
Home Town: Oshawa
More about Fred Whalley: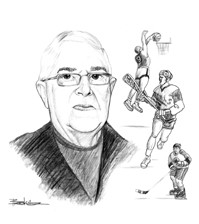 In 1951, Fred was a player with the Central Collegiate basketball team after which he began a twenty-five (25) year involvement in Oshawa sports. In 1955 when he became Manager and Coach for the Ontario Junior A basketball team and served as President of the Oshawa Industrial Basketball League as well as playing, coaching and managing basketball teams till 1962. During those years two highlights were serving as president and manager of the Ontario Intermediate B Basketball Championship team (Oshawa Shopping Centre All-stars) in 1959 and coaching and managing the Oshawa Hawks basketball team to the Ontario Intermediate A crown in 1962. Switching over to lacrosse a year later, Fred became manager of the Oshawa Green Gaels Junior A club teams that won the Canadian Junior Championship Minto Cup for four years from 1963 to 1966 and during that time he also coached the 1963 Green Gaels for four games when coach Jim Bishop was ill, and in 1964 he was elected to the Ontario Lacrosse Association executive and took over the position of Vice-President. In 1967 he became the General Manager and Coach of the Senior A Brooklin Redmen who won the Eastern Canadian title following that up as finalists in the Mann Cup for the Canadian Senior A championship. Taking on the job as the general manager and coach of the Montreal Canadiens professional lacrosse team in the National Lacrosse Association in 1968, he also served on the executives of the Ontario and Canadian associations in different capacities. After his pro lacrosse ventures came to an end, Fred turned to Minor Lacrosse and served on their executives in 1969 and 1970.
---
Frederick Harding -
Boxing
Year Inducted: 1999
Home Town: Oshawa
More about Frederick Harding: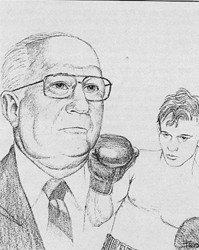 Fred was born in Oshawa and received his education at Centre Street Public School and O.C.V.I. He began his amateur boxing career in 1944 and continued to 1949. During this time Fred had 62 bouts and won 49 of them. To gain experience and conditioning, Fred was forced to fight out of his division because there were so few boxers in the bantamweight class. One of his most memorable bouts was when he fought the Featherweight Champion of Manitoba at Maple Leaf Gardens and won with his famous left hook. Fred, who was nicknamed 'Baby Face', was rated as one of Canada's best amateur and bantamweight boxers. His name appeared on boxing cards in main and semi events across Ontario and Quebec, including Maple Leaf Gardens and Massey Hall in Toronto. Fred earned the following achievements - 1948 Ontario Bantamweight Champion; 1948 - Canadian Olympic Trials Finalist (Bantam); 1949 - Southern Ontario Bantamweight Champion; and 1949 - British Empire Games Finalist (Bantam).
---
Frederick Keith Etcher -
Hockey
Year Inducted: 2002
More about Frederick Keith Etcher: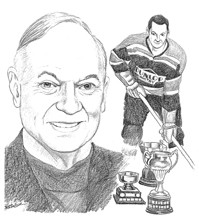 Beginning in 1943, Fred played through the Oshawa Minor Hockey system before joining and winning a Junior B Championship and a league scoring title in 1951. After two seasons with the Oshawa Generals, Fred helped the Oshawa 'Truckmen' to an Ontario Senior B championship, then joined the Whitby Dunlops. From 1955 to 1961, Fred made significant contributions to one Ontario Senior B title, two Canadian Senior A championships (Allen Cup), and one World Championship - all with Whitby. In 1960, Fred was selected to play for Kitchener, Waterloo, who represented Canada in the Winter Olympics. The Team won the Silver Medal and Fred won the scoring championship with 21 points in 7 games. In so doing, he established Olympic scoring records, some of which still stand. In both baseball and fastball, Fred was known as an excellent hitter and a solid infielder. He on-field talent contributed to an Intermediate title in 1953 and a Toronto League Championship in 1954. From 1958 to 1962, Fred was a .300 hitter while playing for Oshawa Tony's in the Toronto Beaches League.
---