Bryan Boyes -
Hockey
Year Inducted: 2013
More about Bryan Boyes: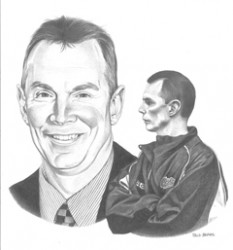 Bryan Boyes has been a fixture with the Oshawa Generals since 1976.Starting as a stick boy, Bryan took over as the team's Head Athletic Trainer and Equipment Manager in 1982, a position he still holds.Over the years, he has been a valued contributor to the tradition of excellence established by the Generals.This has been reinforced by Hockey Canada, which has selected him as equipment manager for Canada's National Junior team for six IIHF World Junior Championships, winning gold in 1996, 2005, 2006 and 2009, silver in 1999 and bronze in 2012.He was also equipment manager for Canada's entry at the 2010 IIHF World Hockey Championship in Germany.In his role with the Generals, Bryan has been a part of four Ontario Hockey League championships - 1983, 1987, 1990 and 1997, and one Memorial Cup in 1990.Canadian Hockey League Commissioner Dave Branch says there is no question Bryan Boyes "has been a contributing force to the success of the Oshawa Generals, Canada's National Junior Team program and our league."
---
Carolyn Toll -
Lacrosse
Year Inducted: 2017
Home Town: Oshawa
More about Carolyn Toll:
Carolyn Toll has excelled in every facet of lacrosse, beginning as a teenaged player in the late 1980's and continuing into the coaching, managing and officiating ranks throughout her adult life. Introduced to the game while a student at Donevan Collegiate in Oshawa, Carolyn earned a recognition award at a camp run by Barb Boyes and never looked back. As a player, she would go on to represent Ontario at several national championships and play for Canada at the 2001 World Cup in England. Carolyn moved on to coaching after the World Cup and joined the Canadian staff for the 2003 U19 World Cup, helping the team to a bronze medal. She has also coached at the high school level at Anderson Collegiate and Brooklin High School, where she led the girls' team to a LOSSA championship in its first year without the benefit of having Grade 12 students.With the Oshawa Lady Blue Knights, Carolyn introduced the "Baby Blue Knights Program", a groundbreaking league for girls aged 4 - 10, and has led rep teams to Provincial Championships in all seven years she has coached, without losing a game. She has won the Ontario Women's Field Lacrosse coach of the year award three times - in 2010, 2012 and 2014.Carolyn is also an international umpire and has officiated at five World Cup tournaments, including in Oshawa in 2013. She was presented with the Jane Action Award in 2010 for demonstrating a genuine love of the game through officiating and the Molly McIntyre Spirit of Lacrosse Award in 2013 for her excellence on the field, mentorship of others and overall contribution to the sport as an official.
---
Cathy Chapman-Fertile -
Softball
Year Inducted: 1995
Home Town: Oshawa
More about Cathy Chapman-Fertile: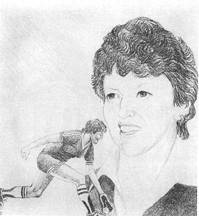 Cathy, a lifelong resident of Oshawa, was born in 1952. In her early years, Cathy played on juvenile and junior all-star Oshawa teams which won many Provincial Championships. During the late 1970's and early 1980's, Cathy was considered the best female shortstop in Canada. Cathy represented Ontario at the Canadian National Softball Championships in 1979 and 1981, winning the Gold Medal in 1981. Both years she was selected the Most Valuable Player. In 1982 Cathy helped Canada win a gold medal at the Pan-Am Games in Mexico. Later that year she played for Canada at the World Women's Softball Championships in Taiwan where they finished 5th out of 24 countries. Cathy was again selected the Most Valuable Player in the world at shortstop - the only Canadian player selected. Cathy is still involved with softball as a coach and was selected 1994 Minor Coach of the Year by the Provincial Women's Softball Association.
---
Cecil Ivan (Ive) Richards -
Multi Sport
Year Inducted: 1988
Birth Date: May 31, 1909
Home Town: Oshawa
More about Cecil Ivan (Ive) Richards:

Ive, born in Oshawa on May 31, 1909, is inducted as a builder for his involvement in skiing and figure skating. He is probably best known as the founder of the Oshawa Ski Club. As an executive member of the club in 1939, he helped select the property and organize volunteers to construct the hills and chalet. He was very active in the club for over fifteen years. Among other accomplishments, Richards was an executive member of the Green Gaels Junior Lacrosse and the Oshawa Shamrock Track and Field Clubs for many years. As an executive member of the Canadian Ski Association in 1947-48, he helped to develop the first electric timing device still used in downhill skiing today. Ive was one of the original founders of the Oshawa Parks Association and, at one time, was supervisor of the Oshawa Community Recreation Association (C.R.A.), responsible for many of the programs established for youths of Oshawa in the latter part of the 1940's.
---
Charles (Charlie) Formosa -
Judo
Year Inducted: 1998
More about Charles (Charlie) Formosa:

Charlie, born in Malta in 1946, began his Canadian judo career in 1962. By 1968 he had attained his black-belt and began promoting judo in Oshawa as the chief instructor for Oshawa's Recreation Department. In 1975 Charlie founded the Formoka Judo Club where he instructs members of all ages. Charlie attended the 1984 and 1988 Olympic Games as a personal coach. He is eligible for a 6th degree black-belt. As a competitor, Charlie has won various national and provincial competitions including the Ontario Championship in 1968, the 1987, 1988, 1990 American-Canadian Championships in New York, the International C.N.E. Tournament and Invitational Masters Championships in Oshawa and Brampton between 1988 and 1992. Charlie is active on the Judo Ontario Executive, is a respected international referee, and has served on the Provincial Grading Board since 1992. Charlie has received recognition for his dedication to judo through special achievement awards from the Ontario Government in 1987, 1988 and 1995.
---
Charles Roy William (Charlie) Huddy -
Hockey
Year Inducted: 2003
Birth Date: June 02, 1959
Home Town: Scarborough
More about Charles Roy William (Charlie) Huddy:

Born in Scarborough, Ontario on June 2, 1959, he started playing hockey in the Scarborough Minor Hockey Association. He came to Oshawa in 1977 to play junior for the Oshawa Generals. Charlie quickly became a fan favourite. In his rookie year, he made an immediate impact, helping his club rebound from a franchise low of 14 points the previous season to an impressive 72 points. Charlie won the Harold J. Mothersill Award as the team's best defenceman for the 1977-78 season. Graduating from the Generals in 1979, Charlie played 17 years in the National Hockey League with stops in Edmonton, Los Angeles, Buffalo and St. Louis. He began his N.H.L. career in 1980 with a young Edmonton Oilers Club. Over the next 11 years, he was a mainstay on the Oilers blue line helping them capture five Stanley Cups. During the 1982-83 season, Charlie was the first ever winner of the Emery Edge Award for the top plus/minus player in the N.H.L. with a plus 62. Charlie retired in 1996 after playing 1,017 regular season and 183 play-off games, and he immediately moved on to a coaching career in professional hockey.
---
Chris Jones -
Softball
Year Inducted: 2013
Home Town: Oshawa
More about Chris Jones: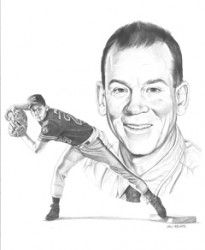 Oshawa born Chris Jones is one of the best softball players Oshawa has ever produced. Chris started playing softball with Connaught Park in the NASC system in 1972. He quickly escalated through the ranks playing rep with the Oshawa Shamrocks and the Oshawa Juniors.After Juniors, he played Senior B with Stouffville and Senior A ball with Burlington before switching to Owen Sound, where the championships started to pile up. With his various club teams, Chris went on to win 5 Provincial Championships and 4 National Championships from 1991 through to 2006. The highlight came in 1995 when he also won the gold medal at the International Softball Congress World Championships with the Toronto Gators.Adding to his team achievements, he was named the Tournament All Star Shortstop at 3 Canadian Championships and named to the All World team as a shortstop in 1995 and 1998.In addition to his success with his club teams, Chris also wore Canadian colours from 1993 to 2004 as the starting shortstop for Team Canada. During that time, he helped Canada win gold medals at the Pan Am Games in 1995 in Argentina and 1999 in Winnipeg, and silver medals at the International Softball Federation World Championships in 1996 and 2004.All told, Chris was on teams that won 12 gold, 5 silver and 4 bronze medals in Provincial, National and International Softball Congress events, and 3 gold and 3 silver medals with Team Canada.
---
Christopher John Mason -
Multi Sport
Year Inducted: 1989
More about Christopher John Mason: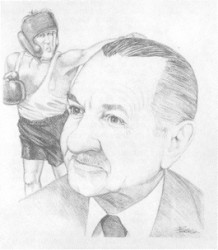 Chris Mason posted an enviable record of service to the people of Oshawa for a lifetime. Outstanding first as an athlete, Chris turned his talents and energy inevitably to the executive side of sport. He served as Chairman of the Oshawa Central Council of neighbourhood Associations for 18 years. President of the Oshawa and District Softball Association, Member of the Oshawa Civic Auditorium Board of Directors, an Alderman on Oshawa City Council and a Durham Region Councillor for nine years. Chris received plaudits from numerous organizations for his contributions and was made a life member of the Royal Canadian Legion, Branch 43, and O.C.C.N.A. Such honours are reserved only for those making renowned contributions to the citizens of Oshawa and amateur sport. Chris Mason was one of Oshawa's truly great pioneer workers in providing opportunities for young people to participate in sports. Chris is deservedly honoured as one of the builders to whom Oshawa citizens owe much.
---
Christopher Krause -
Rugby
Year Inducted: 1994
More about Christopher Krause: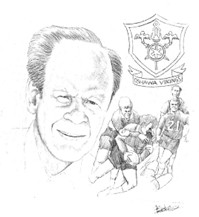 Chris emigrated to Canada from England in 1951 and a short time later began his Canadian athletic career when he joined the Toronto Nomads Rugby Football Club. During the sixties and seventies, Chris served on the executive of the Ontario Rugby Union. In 1959 Chris founded the Oshawa Viking Rugby Club, introducing the first organized rugby team to the City. The majority of the players on the Vikings were his fellow workers at General Motors. At the conclusion of his playing career, his time and energy were devoted to building the Club that he founded. His total dedication and enthusiasm for the game and the Vikings did much to promote rugby in Ontario. All those who have played for the Vikings owe Christopher Krause a debt of gratitude as he was the driving force that kept the Club functioning during the period 1959 to 1972.
---
Clifford Maddock -
Hockey
Year Inducted: 1997
More about Clifford Maddock: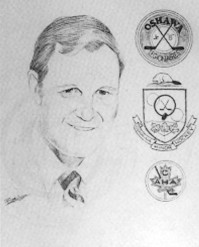 Cliff's 47-year involvement in amateur sports in Oshawa included a variety of positions in Oshawa Minor Hockey from 1950 to 1966, and with the Oshawa Legionaires Junior Hockey Club from 1964 to the present. Cliff was also vice president of the Metro Junior Hockey League from 1988 to 1991 and is presently treasurer of that organization. In 1986 Cliff was presented with "The Gold Stick Award" by the Ontario Hockey Association recognizing his outstanding service to junior hockey. Cliff also received the "Mel Bradley Memorial Award" from Oshawa Minor Hockey for dedicated service. Cliff has been honoured twice by the C.A.H.A. for his outstanding service to minor hockey in Canada. In 1983 Cliff was manager of the Metro Junior "B" All-Stars who won the gold medal at the Canada Games. Cliff was also a member of the Selection Committee of the Oshawa Sports Hall of Fame from 1987 to 1992. Cliff measures success not by victories but by the athletes who receive hockey scholarships, play in the O.H.L. or professionally, and those who become outstanding citizens in their communities.
---