Robert A. Attersley -
Hockey
Year Inducted: 1986
Home Town: Oshawa
More about Robert A. Attersley: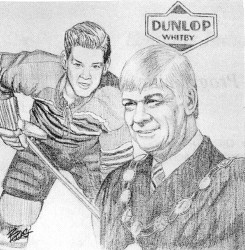 Beginning in 1950, Oshawa-born Bob Attersley played three seasons with the Oshawa Generals of the Ontario Hockey Association Junior A circuit. In the 1952-53 season, he captured the Red Tilson Memorial Trophy as the league's outstanding player. But his greatest victory was still five years away. Playing for the Whitby Dunlops at the 1958 World Hockey Championships in Osio, Attersley and the Canadian crew brought home the gold medal. Attersley spent seven seasons with the Dunlops, who participated at the Senior A and Senior B levels. In his final season with the Dunlops, 1960, Attersley was asked to join a Kitchener outfit which was to represent Canada at the 1960 Olympic Games at Squaw Valley, United States. The team won a silver medal. A resident of Oshawa from his birth in 1933 until 1958, Attersley later moved to Whitby and became a prominent member of the business community, and later served as Mayor.
---
Robert Booth -
Multi Sport
Year Inducted: 2000
More about Robert Booth: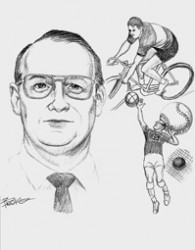 A dedicated athlete and a most competitive player for over 50 years, Bob has achieved Ontario championship honours in four different sports, namely cycling, fastball, basketball and squash. Bob first achieved athletic fame by winning an Ontario title in bicycle racing for the one-mile event at the Canadian Wheelman's Junior Cycling championships in 1949. A standout catcher for Maple Cleaners and Oshawa Tony's Softball Teams, Bob helped his teams win all-Ontario Provincial Senior B titles in 1954, 1956, 1957 and a Senior A title in 1958. While playing in the Toronto Beaches Fastball League, Bob won all-star honours as both a hitter and a catcher. An outstanding guard during his many years of basketball, Bob helped win an intermediate A title playing for the Oshawa Shopping Centre All-Stars in the 1958-59 season. Forty-five years after his first Ontario title, Bob won the Ontario Masters Senior Men's Squash Championship for 1994.
---
Robert Dionne -
Multi Sport
Year Inducted: 2012
Birth Date: October 02, 1924
Home Town: Oshawa
More about Robert Dionne: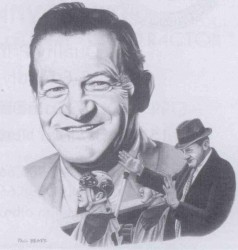 Robert Joseph "Bob" Dionne was born on October 2, 1924. Raised in Oshawa he played hockey and softball. After 35 years working for General Motors he passed away in 1993. In 1942, Bob was a member of the Oshawa Commercials Eastern Ontario Softball championship team. A proud Canadian he enlisted in the army serving in World War II. Battling the memories of war, he married and continued his legacy in sports. In 1948, Bob played softball for the Legion Branch 43 Eastern Ontario Champions. He also played 3 years with Oshawa Tony's winning the All Ontario Softball Championship and attending the first World Championship in the U.S.A. in 1956. While still playing and raising a family, Bob found time to devote to the community along with the help of others establishing the Knights of Columbus Hardball Little League. Bob was the driving force to expand the league from 4 to 8 teams. The establishment of the Catholic Youth Organization (C.Y.O.) minor hockey league, again with the help of others, was his next task. Bob was the first league president and had a trophy dedicated in his honour. Coaching in both the C.Y.O. and Oshawa Minor Hockey Association left his summers free for his family and a passion for golf and cottage life. He attended the Hockey Coach's Symposium in Kingston and held coaches and player clinics in Oshawa. His knowledge of the game of hockey and his fierce competitive spirit contributed to success behind the bench. As coach of the Oshawa Crushmen Junior B Hockey Team from 1966 to 1971, Bob led the team to 3 first place regular season finishes, 2 League Championships and 2 All Ontario Semi Final appearances. Being recognized as a ball player from Oshawa by the Honourable Michael Starr on the steps of Parliament in Ottawa, and then having he and his family shaking the hand of Prime Minister John Diefenbaker was one of Bob Dionne's proudest moments.
---
Robert Gordon Orr -
Hockey
Year Inducted: 1986
More about Robert Gordon Orr: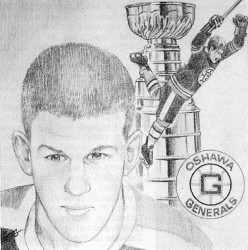 Bobby Orr, who revolutionized the defence position with his attacking style of play, led the Oshawa Generals to a Memorial Cup (Canadian Junior Hockey Championship) appearance in the 1965-66 season, and was a first-team National Hockey League All-Star eight times in his injury-shortened 10-season career with the Boston Bruins and Chicago Black Hawks. He won the James Norris Trophy (best defenceman) on eight occasions, was the Art Ross Trophy winner (leading scorer) twice, was a three-time recipient of the Hart Trophy as the NHL's most valuable player, and once won the Conn Smythe Trophy as the outstanding playoff performer. He also won the Calder Trophy as NHL Rookie-of-the-Year, and played on two Stanley Cup Championship teams with the Bruins. Bobby was also selected as the Most Valuable Player at the 1976 Canada Cup, which Team Canada won. Bobby, hailed by many observers as the greatest player of all time, received the Lou Marsh Trophy as Canada's Outstanding Athlete in 1970.
---
Robert James -
Multi Sport
Year Inducted: 1988
Birth Date: February 05, 1903
Home Town: Oshawa
More about Robert James :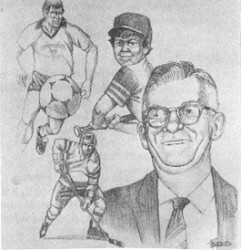 Born in Oshawa on February 5, 1903 and resident of Oshawa for 82 years, Bob was one of the Founding Fathers of the Oshawa Parks and Recreation Association. He was Chairman of the Central Council Neighbourhood Association Sports Committee (N.A.S.C.) from 1948 to 1965 and a Life Member of the Rundle Park Association and the C.C.N.A. While holding office in the Neighbourhood Association, he helped in the growth from the original nine parks to twenty-four. Bob was responsible for the organization of hockey, soccer and softball leagues in the Oshawa park system while holding the position of Sports Chairman for the Council from 1948-1965. The name "Bob Andrews" and the words "Sports in Parks" were synonymous - Think of one and you automatically thought of the other. For Bob, there was no pay-off, he was a tireless worker, always on hand to help when needed. For over ten years, when the Children's Arena opened in 1956, throughout the hockey season, Bob was there to oversee the Neighbourhood Parks Hockey League, as Sports Chairman of the Neighbourhood Association Sports Committee.
---
Robert Samuel McLaughlin -
Multi Sport
Year Inducted: 1986
Home Town: Oshawa
More about Robert Samuel McLaughlin: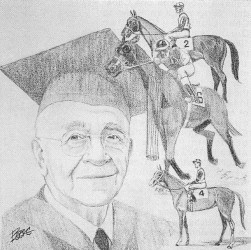 A resident of Oshawa for 96 years, "Mr. Sam" was the son of Robert McLaughlin, whose McLaughlin Carriage Works was the largest carriage works in the British Empire and the fore-runner of General Motors of Canada Limited, of which Col. McLaughlin was President from November 25, 1918 until May 30, 1945, when he became Chairman of the Board until his death in his 101st year on January 6, 1972. Col. McLaughlin was an avid sportsman, whose yacht Eleanor, named after his youngest daughter, won the Richardson Cup as champion of the Great Lakes in its class in 1926. His Parkwood Stables horses won the King's Plate in 1934 (Horometer), 1946 (Kingarvie) and 1947 (Moldy). Col. McLaughlin is a member of Canada's Sports Hall of Fame and he is remembered as much for his generous nature as his sporting accomplishments.
---
Robin Megraw -
Soccer
Year Inducted: 1991
Home Town: Liverpool, England
More about Robin Megraw: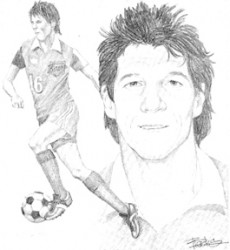 This Liverpool, England, native began his outstanding soccer career as a teenaged combatant with the Oshawa Imperials from 1966 to 1969. At the age of twenty, he had advanced to the National league with Toronto Ukraina (1970) and Toronto City (1971-1973). From 1973 to 1976 his advancing skills brought him to the Toronto First Portuguese of the National League. After his Oshawa days, Robin began a distinguished eight-year Canadian National team involvement. In 1975 he played against Jamaica, Argentina and Mexico in the Pan American Games in Mexico. Robin further achieved membership on the 1976 Canadian Olympic team against Russia and Korea. The career of this Oshawa resident culminated in his involvement with the 1977 Toronto Metros and the 1978 Blizzard of the North American Soccer League, playing against such greats as Pele and Beckenbauer. A serious game injury against the New York Cosmos created his ultimate return to Oshawa where he served as playing coach for the Oshawa Kicks for four seasons.
---
Ron Keys -
Motocross Racing
Year Inducted: 2016
Home Town: Oshawa
More about Ron Keys:
One of the most talented riders ever to race a motorcycle, Ron Keys went straight out of the gate to excel at his chosen sport. Unlike some child prodigies, his first ride on a motorcycle was at age nineteen. A few weeks after buying his first bike in 1965, he raced all corners at a local track and won. The following year Ron obtained a racing licence and, racing this same ill-prepared street bike, won the Junior Class at the Annual Canada-USA Challenge Race. In 1967, riding a proper racing motorcycle, he won all six of his first races but then had an accident that sidelined him for the year.In 1968 Ron was promoted to the Expert Class, leapfrogging the Senior Class altogether, and in August of the same year, riding a borrowed bike, won his first Expert Class race. In 1969, leading from start to finish, he won his first Canadian National Championship.From there Ron was fully sponsored on a proper racing bike and spent winters racing in California and summers in Canada. Over his short career, Ron won five National Motocross Championships, three Provincial Dirt Track Championships, one National Dirt Track Championship and a Silver Medal in the Olympics of motorcycling - the first International Six Days Enduro. For Yamaha, he won their first National Motocross Championship in Canada in all three classes, beating an American and a World Champion to do so.Retiring in 1974, Ron was inducted into the Canadian Motorcycle Hall of Fame in 2008.
---
Ronald (Bucky) Richards -
Ski Jumping
Year Inducted: 2000
Home Town: Oshawa
More about Ronald (Bucky) Richards: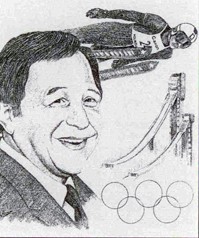 Ron (Bucky) Richards was born in Oshawa and attended King Street Public School and O.C.V.I. An excellent ski jumper, Bucky won Ontario championships in 1965, 1968, 1970 and 1971, and won North American titles in 1969 and 1970. Ron was he designer of a training program that resulted in him becoming the manager of Canada's Ski-Jumping Team. He managed the Team in two Olympics - 1972, Sapporo, Japan, and 1976, Innsbruck, Austria. He was the driving force behind the 1974 opening of a world-class training centre in Thunder Bay, Ontario, attracting competitors from all around the world. After the 1976 Olympics, Ron started the Ontario Team that produced such ski-jumping greats as 13-time world cup champion Horst Bulau and his son Ron Jr. Ron has been involved in the sport for 40 years as a competitor, international judge and technical delegate. He is truly a worthy recipient of our recognition, as he joins his father and son in the Hall of Fame.
---
Ronald Ivan Richards, Jr. -
Ski Jumping
Year Inducted: 1994
Birth Date: June 05, 1963
Home Town: Oshawa
More about Ronald Ivan Richards, Jr.: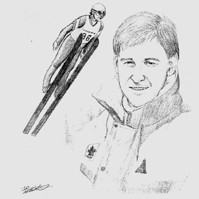 Ron, born in Oshawa on June 5, 1963, became interested in skiing at a very early age. When he was three years old, Ron started downhill skiing at the Oshawa Ski Club and by the age of seven had become involved in ski jumping. In 1981, at the age of seventeen, Ron won the Canadian Junior Ski Jumping Championship and went on to successfully capture the Canadian Senior Championship in 1988, 1989 and 1990. Ron was a member of the Ontario Ski Jumping Team for three years and a National Team member for fifteen years. Ron proudly represented Canada at three Olympic Games - Sarajevo 1984, Calgary 1988 and Albertville 1992. During his career, Ron consistently remained in the top thirty ski jumpers during the World Cup competitions. Ronald Ivan Richards, Jr. remains a dedicated athlete who continues to be a source of motivation for the ski jumpers at the Oshawa Ski Club.
---