Stacey Jiggins (Gordon) -
Volleyball
Year Inducted: 2017
Birth Date: January 25, 1982
Home Town: Oshawa
More about Stacey Jiggins (Gordon):
Stacey Jiggins (Gordon), a world-class volleyball player made her mark locally, nationally and internationally. Born January 25, 1982 she was a talented multi-sport athlete growing up in Oshawa, winning several team and individual awards in softball, ringette, wrestling, basketball, track and field and especially volleyball. A member of the Ganaraska Wolves Volleyball Club from 1996-2000, Stacey twice won a provincial championship and was named the MVP at the national junior championships. She is the only two-time winner of the Ontario Volleyball Association's prestigious Evelyn Holick Award as the top youth player in the province.Stacey has been a member of Team Canada many times at the junior and senior levels in volleyball, competing at a world championship in 1999 and several other international competitions, including the 2006 Pan Am volleyball championships in Puerto Rico, where she was honoured with the best passer award.Her career at the Ohio State University from 2001 to 2004 was nothing short of phenomenal, and saw her inducted into the University's Hall of Fame at first opportunity, in 2010. She is one of only two Canadians to have been named Big Ten and NCAA Volleyball National Freshman of the year in 2001. Stacy was twice selected Ohio State's Athlete of the Year, and Big Ten Conference Player of the Year in 2002 and 2004. She was also the National Player of the Year in 2004. Stacey holds several OSU records including all time leader in kills, kills per game, points and points per game while being named 16 times Big Ten Player of the Week. She is Ohio State's only four-time all-American and is the all-time Big Ten Conference leader in kills with 2,978, third most in NCAA history as well as carrying an average of 7.08 kills per game. In addition to her athletic successes, she was named Scholar Athlete and added to the Dean's List 4 times.After university, Stacey played volleyball professionally in Puerto Rico, Turkey and Spain, and won several national championships, before settling back in the Durham Region and beginning a career in law enforcement.
---
Stan Cockerton -
Lacrosse
Year Inducted: 1990
More about Stan Cockerton: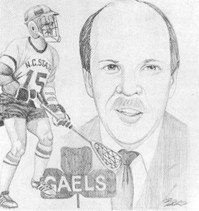 Stan Cockerton made his mark on Oshawa's Lacrosse scene over a five-year career with the Junior Green Gaels. Stan scored 389 goals, amassed 403 assists, and earned MVP in both 1975 and 1976. Stan received a scholarship at North Carolina State where he excelled. He was the NCAA all-time leading scorer (194), third in total points (282), a four-time Atlantic coast conference all-star, conference all-time leading scorer and total points leader, four-time All-American, and only the third North Carolina player to have his jersey retired. From 1977 to 1980 Stan played for the Brooklin Redmen and was awarded the Rookie-Of-The-Year in 1977. He played for the Canadian National Field Lacrosse team from 1976 to 1982, which won the 1978 world championship in England. Stan scored the winning overtime goal, was the leading scorer, and named world MVP. Stan remained in the sport after his playing career as an assistant coach with the National team since 1984, and currently coach of the Oshawa Blue Knights Field Lacrosse Club.
---
Stan Marchut -
Multi Sport
Year Inducted: 2010
Home Town: Oshawa
More about Stan Marchut: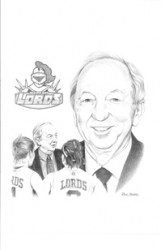 Stan Marchut, born in Oshawa in 1938, attended elementary school at Holy Cross Public School and secondary school at Central C.V.I. After graduating from the University of Toronto, Stan became an integral member of the Oshawa sporting community for more than 40 years whole teaching at Eastdale Collegiate and Durham College. At Eastdale, he was the Physical Education Head and coached many sports including football, volleyball and basketball. He was the founder of the Oshawa Times Classic Senior Boys Basketball Tournament and organized it for more than 20 years. He was awarded the prestigious Peter Beach Award by the Lake Ontario Secondary School Athletic Association for his outstanding contribution to Secondary School sports. It was at Durham College that Stan put up numbers that will impress for years to come. During an incredible 24 year run with the Women's Volleyball Program, Stan amassed a staggering 357 wins (the most in Canadian College Athletic Association history) against only 139 losses. During the period 1984 to 2008, the Lords never missed the Ontario playoffs earning medals 10 times and winning 4 Provincial Championships. He was coach of the year 7 times and in 1994 was recognized with the Canadian Colleges Athletic Association Coaching Excellence Award. In 2001, he was inducted into the Durham College Sports Hall of Fame. Following his retirement in 2007, Stan continued to support the Women's Volleyball program at Durham.
---
Terrence V. Kelly, Q.C. -
Multi Sport
Year Inducted: 1995
Home Town: Toronto
More about Terrence V. Kelly, Q.C.: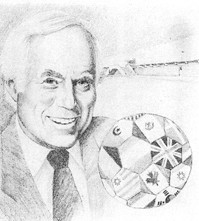 Terry was born in 1931 in Toronto,educated at Saint Malachy's College in Belfast, Northern Ireland, the University of New Brunswick and called to the Bar in 1953. Since establishing his practice in Oshawa, Terry has taken a leadership role in the development of a number of community projects, including the Civic Auditorium Complex and Founding Chairman of Oshawa's Sports Hall of Fame. Terry has chaired countless committees which have served Oshawa's cultural, humanitarian and sporting life. No cause or project is too small for Terry to lend his support. The awarding of the Centennial Medal (1967), the Queen's Silver Jubilee Medal (1977), the Ontario Bicentennial Medal (1984), the 125th Commemorative Canada Medal (1992) and an Honorary Doctor of Laws, University of New Brunswick (1994) are testimony to Terry's leadership qualities. Terry continues today as a Director of Maple Leaf Gardens, the Oshawa Generals and as a Governor of Canada's Sports Hall of Fame. Oshawa and its citizens have benefited from Terry's vision and determination. He certainly typifies the slogan "Let's build it ourselves for ourselves".
---
Terry OReilly -
Hockey
Year Inducted: 1990
Home Town: Niagara Fall
More about Terry OReilly: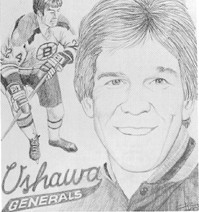 This Niagara Falls native moved to Oshawa where he began his hockey career. Terry played from Atom to Midget with C.Y.O., then Junior B, and finally Junior A with the 1967 to 1971 Oshawa Generals. Terry was Boston's 1971 second amateur draft pick. The right-winger spent only one year in the minors before his 1972 inclusion on the Bruins\' N.H.L. roster. His strong work ethic and scrappy determined style earned him the reputation as the heart and soul of the team during his 14-year career, two of them as captain. His brief retirement in 1985 ended with his appointment as the Bruins\' head coach. He rekindled the spirit of the team and led it to the team\'s first Stanley Cup final in 10 years and to some of its more memorable victories. After two seasons, Terry retired as coach. He now devotes his determination and energy to a number of charitable causes, including the American Liver Foundation and the Cancer Institute.
---
Terry Thomas Lloyd -
Lacrosse
Year Inducted: 2006
Home Town: Oshawa
More about Terry Thomas Lloyd: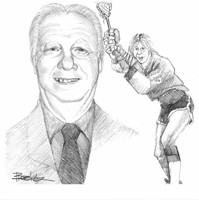 Terry Lloyd has distinguished himself as one of the finest athletes and builders of both box and field lacrosse in Oshawa. After graduating from Oshawa's minor lacrosse ranks in the 1960's, Terry went on to play four seasons with the Oshawa Jr. Green Gaels before turning pro in 1974 with the Philadelphia Wings of the National Lacrosse League. In his two seasons with the Wings, he scored 190 goals, including a league leading 113 goals in 1975. Terry returned to Ontario to finish his playing days in the Ontario Lacrosse Association's Major Series, first with the Brooklin Redmen, and then the Peterborough Lakers with whom he helped capture a Mann Cup in 1984. As a builder, Terry has continued to show his passion and commitment to the sport. He co-founded the renowned Oshawa Blue Knights Field Lacrosse program. For more than 20 years, he has been the driving force behind one of the most successful sport organizations in Canada capturing 61 provincial and 7 national field lacrosse championships at various age levels. Terry has served as director and manager of Canada's National Junior Field Lacrosse team at four world championships between 1988 and 2003. Upon retirement, he spent some time in coaching and management positions with Florida in the NHL, and Oshawa in the OHL.
---
Thomas Leo OConner -
Multi Sport
Year Inducted: 2001
Home Town: Oshawa
More about Thomas Leo OConner: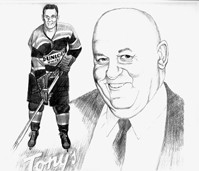 Born in Oshawa, Tom (Chico) OConnor's outstanding sporting career started in 1945, playing for both Oshawa minor hockey and Oshawa Legion baseball teams. uc0u8232 Over the next five years Tom honed his hockey and baseball skills, winning MVP awards and a scoring title.'a0 In 1950 Tom moved through the junior ranks in both sports, including the 1951/52 season with the Oshawa Generals. uc0u8232 In hockey, from 1954 to 1960, Tom starred with the Whitby Dunlops, who won the Allen Cup national championships in 1957 and 1959.'a0 He also played a major role on Canada's World Championship team in Oslo, Norway in 1958. uc0u8232 In baseball, Tom won an Ontario title with the 1953 McCallum Transporters and four consecutive Ontario championships as an outfielder for the Gale Lumber Senior B Fastball Club from 1967 to 1970.'a0 uc0u8232 Tom also coached the Oshawa Juvenile Fastball Team to an Ontario championship in 1973.
---
Tom Olinyk -
Multi Sport
Year Inducted: 2015
Home Town: Oshawa
More about Tom Olinyk:
To say that Tom Olinyk was a multi-sport athlete would be an understatement. He could play basketball, football and eventually rugby, all with the same grit and enthusiasm.And it was his play on the basketball court and football field while attending Oshawa Central Collegiate which established him as a pretty good athlete. He remained on the court during his tenure as a student at Ryerson Polytechnical Institute (now Ryerson University) and his contribution to this program was such, he earned student athlete of the year honors in 1959. His leadership qualities took hold while being named captain of the Ryerson squad, which would win provincial basketball honors in 1959 and 1961. Olinyk ventured into the rugby world in 1960 and competed on a high level with the Oshawa Vikings during a 20-year span. He later turned his attention at an executive level with the very same organization.Returning to the basketball court, Olinyk competed with the Oshawa Hawks and emerged provincial A and B champions. And once back on the football field, he played with the Oshawa Imps, turned Impalas and eventually the Hawkeyes as a linebacker.Olinyk would later turn his attention to officiating in basketball and football, including holding the sticks at several Canadian Football League (CFL) games in Toronto.
---
Wallace Wilson -
Hockey
Year Inducted: 2007
Birth Date: May 25, 1921
Home Town: Berwick
More about Wallace Wilson: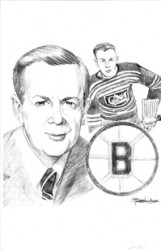 Born in Berwick, Nova Scotia on May 25, 1921, Wally and his parents moved to Oshawa when he was only four. Wally developed his hockey skills in Oshawa and joined the Oshawa Generals for the 1939-1940 season helping lead them to the Memorial Cup Championship. He turned professional with the Hershey Bears of the American Hockey League in 1941-1942 before joining the Royal Canadian Air Force in 1942 and playing for various R.C.A.F. teams the next four years, and joined the Quebec Aces of the Quebec Senior Hockey League to make an Allen Cup apperance in 1944-1945. In 1945, he was claimed by the Toronto Maple Leafs of the National Hockey League and played for the Pittsburgh Hornets in the A.H.L. for two seasons, leading them in scoring in the 1945-1946 season. He was then traded to the Boston Bruins of the N.H.L. and played there in 1947-1948, before walking away from the second year of his contract to go into the business world (Cliff Mills Motors) back in Oshawa. Special recognition goes to Wally as he was the first to develop his skills in Oshawa, play for the Oshawa Generals and proceed to the N.H.L. He has truly earned his place in the Oshawa Sports Hall of Fame.
---
Walter Mozewsky -
Multi Sport
Year Inducted: 1997
Home Town: Oshawa
More about Walter Mozewsky: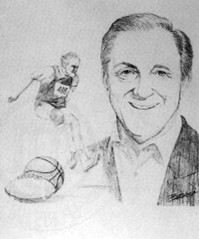 Walter was born in Oshawa in 1931 and received his education at South Simcoe School, OCVI and Central Collegiate. He excelled in several sports, particularly track and field where he successfully represented Oshawa in provincial, national and international competitions, and was named to the 1952 Olympic Team. In 1951, Walter was named Oshawa Athlete of the Year. While attending Central Collegiate, Walter was the leading scorer at a number of provincial basketball tournaments and played football on the high school teams as well as with the Oshawa Red Raiders. Walter earned a tryout with the Toronto Argonauts but a serious knee injury ended his football career. During his years in athletics, Walter won countless medals, trophies, plaques and ribbons. Later in his career, as a member of the Canadian Masters Track and Field Team, Walter won both provincial and national championships, and was recognized by the Ontario Government for his achievements.
---