Ross Jones -
Lacrosse
Year Inducted: 2011
More about Ross Jones: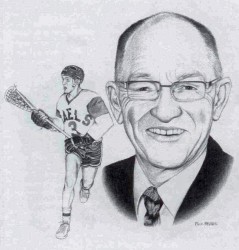 Born in 1948, Ross started playing lacrosse in Whitby in 1957. He joined the Oshawa Green Gaels in 1964 and played six seasons with the team. The Gaels won seven Minto Cups between 1963 and 1969 under legendary coach Jim Bishop. Ross played in five Minto Cups, leading the team in goal scoring in 1966 and 1967. In 23 games of Minto Cup play, he scored 37 goals and 49 points. Ross was 1st in goals and 3rd in points in each of the OLA Jr A regular seasons in 1966 and 1967. He was the first team all-star at right wing and the winner of the Ken Ross Trophy for ability and sportsmanship in 1967. In 1968, Ross won the scoring title with 101 goals (team record) and 160 points. He graduated junior as the third highest in career goals (359) and 17th in points (540). In the OLA playoffs, Ross scored 102 goals in his career. As a member of Canadas field lacrosse team, he played in the Expo 67 World Tournament in Montreal. Professional lacrosse with the Detroit Olympics in 1968 saw Ross score 29 goals and 48 points in 12 league games. In 10 playoff games, Ross scored 19 goals and 41 points. 1970 found Ross playing Sr. A with the Brooklin Redmen. Ross returned to lacrosse in 1975 when he was drafted by the Philadelphia Wings. He was later traded to the Montreal Quebecois under coach Bishop. That pro season Ross played 40 games, scoring 57 goals and 104 points. Ross and his Minto Cup teammates were inducted into the Oshawa Sports Hall of Fame in 1992 and the Canadian Lacrosse Hall of Fame (New Westminister BC) in 2000. The Ontario Lacrosse Hall of Fame in St. Catharines recognized Ross for his individual play in 1997.
---
Ross Robert Lowe -
Hockey
Year Inducted: 2004
Birth Date: September 21, 1928
Home Town: Oshawa
More about Ross Robert Lowe: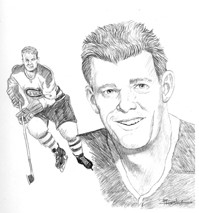 Ross Robert Lowe was born in Oshawa on September 21, 1928. He began his hockey career in the Oshawa City League. Ross joined the Oshawa Generals at the age of 15 and played there for the next five years. In the fall of 1948, Ross signed with the Boston Bruins of the N.H.L. The Boston Bruins brought him up to the N.H.L. where he played most of the 1950-51 season. During that year, Ross was traded to the Montreal Canadiens. Ross spent the 1951-52 season with the Canadiens, and was then dealt to the Victoria Cougars of the Western Hockey League. Ross then spent the 1954-55 season with the Springfield Indians of the American Hockey League, where he won the AHL - MVP Award. The New York Rangers recognized his talent and signed him for the 1955 - 56 season. During the summer of 1955, and just one month short of his 27th birthday, Ross accidentally drowned while on vacation in Haliburton. A tragic loss to his family and to hockey fans everywhere.
---
Roy Sawyer -
Hockey
Year Inducted: 2012
Birth Date: November 24, 1920
Home Town: Oshawa
More about Roy Sawyer: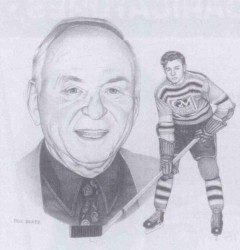 Born in Oshawa on November 24, 1920, Roy was one of the leading point producers for the Generals during their Memorial Cup wins, scoring 17 goals in 14 games during the 1938-39 season and 13 goals in 17 games the following season. He was a two-time Memorial Cup champion with the Oshawa Generals in 1939 and 1940. Following his junior career, he signed with the Detroit Red Wings and was assigned to their farm team, the Indianapolis Capitals of the American Hockey League, where he won the Calder Cup in 1942. Roy left pro hockey the following year to join the Canadian Navy during the Second World War. Assigned to the HMCS New Glasgow frigate, he played a role in the Allied Invasion in the North Atlantic. He was part of the crew that rammed and sunk a German U-boat on March 23, 1945 - the last U-boat to be sunk by the Allies in World War Two. Following the war, Roy returned to pro hockey in the late 1940's, playing in the American League with Indianapolis, St. Louis, Springfield and in the USHL with Fort Worth. After hockey, Sawyer worked in Winnipeg before ultimately returning to the Oshawa area, serving for some time as President of the Oshawa Crushmen Junior B Hockey Club.
---
Ryan Hughes -
Golf
Year Inducted: 2009
Home Town: Oshawa
More about Ryan Hughes: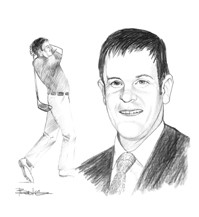 His passion for golf was parlayed into an incredible career at Durham College, winning the Ontario Colleges Athletic Association individual gold medal a record four times from 1988 to 1991. His outstanding play helped the Lords win their first OCCA team golf title in 1988 and defended it in 1989. Following his graduation, Ryan went on to coach at Durham, winning OCAA championships in 1992 and 1995. In total he won eight Ontario college gold medals as a player and a coach. Hughes was named Durham College's male athlete of the 1990-91 year and was inducted into the school's sports hall of fame in 2000.
---
Sandford Desmond -
Horse Racing
Year Inducted: 1988
Birth Date: April 16, 1949
Home Town: Oshawa
More about Sandford Desmond :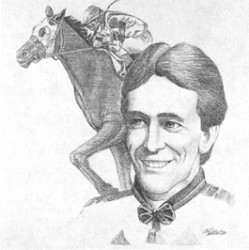 Sandy Hawley, born in Oshawa on April 16, 1949, attended Centre Street Public School before moving to Whitby. His introduction to horse racing was unexpected, for he had never considered becoming a jockey until it was suggested by his uncle, who was a racing fan. Being unanimously selected as one of only nine riders to receive the Avelino Gomez Memorial Award, exclusive to those with 5,000 or more wins, has special meaning for Hawley, for it was after Gomez that Hawley patterned his riding style. Hawley, twice named Canada's Athlete of the Year, was awarded the Order of Canada medal, being the first jockey to ride over 500 winners in one season. His mounts have earned more than $53,000,000 and he is the first rider to win over 5,000 races in the shortest period of time. In February 1987, he was inducted into Canada's Horse Racing Hall of Fame. Sandy is in his 19th season of race riding.
---
Sandra Lowe -
Bowling
Year Inducted: 1999
More about Sandra Lowe: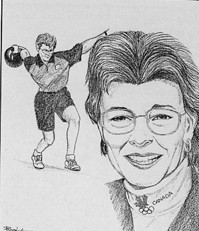 Sandy had led the way for Canada in the sport of 10-pin bowling. During her career, Sandy has accumulated many prestigious titles ranging from the local to international levels. As early as 1991, Sandy was hailed as a three-time 'Greater Toronto Bowler of the Year', and in 1993 she captured 'Top Canadian Female Bowler of the Year'. She earned three gold medals and a silver at the 1993 American Zone Championship and also won gold, silver and bronze medals at the Commonwealth Invitational events in 1993 and 1994. In 1995 she was part of the Canadian team that won the gold medal at the Pan Am games in Argentina. In 1998 she won two silver medals and two bronze medals at the Tournament of the Americans and was runner-up at the Brunswick World Open. Sandy also set a Canadian record in 1997, scoring 1043. At the end of this year, Sandy is contemplating leaving international competition and devoting her time to coaching.
---
Scott Mann -
Baseball
Year Inducted: 2008
Home Town: Oshawa
More about Scott Mann: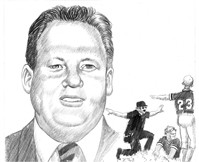 Baseball has taken Scott to four continents at the amateur and professional levels. An Oshawa native, Scott got his start in softball with Kingside Park before advancing through the Oshawa Legion Minor Baseball Association. As a Junior Legionaire, he caught the eye of U.S. College, Canadian Provincial and Canadian National Team scouts. Scott accepted scholarships at Alvin College in Texas for two years and Indiana State for two years, playing in the 1983 and 1984 National College Athletic Association World Series. He also played with the 1981 Provincial Team, winning a gold medal at the Canada Games, and four years with the Canadian National Team (1981 to 1984). With Team Canada, Scott won a gold medal at the International Tournament in the Netherlands, played in Intercontinental Cups in Edmonton and Belgium, the World Cup in Seoul, South Korea, the Pan American Games in Caracas, Venezuela, and the 1984 Summer Olympics in Los Angeles. Following the Olympics, Scott signed with the Montreal Expos organization and played four seasons professionally. After a trade and short stint with the St. Louis Cardinals organization, he retired to settle in Indiana with his wife Tracy and son Jay. Scott was further honoured in 2000 by his selection to Oshawa's Baseball Teams of the 70's and the Century as a right fielder.
---
Sean Brown -
Hockey
Year Inducted: 2014
Birth Date: November 05, 1976
Home Town: Oshawa
More about Sean Brown:

Born on November 5, 1976 in Oshawa, Sean developed his hockey skills with Woodview Park in the NASC and the Black Hawks of the Little NHL. He went on to play "AAA" in the Oshawa Minor Hockey Association and was a member of three Ontario Minor Hockey Association championship teams. Following his Ontario Hockey League junior career in Belleville and Sarnia, Sean was a first round draft pick of the NHL's Boston Bruins in the 1995 draft. He played a total of 436 games with the Edmonton Oilers, Boston Bruins, New Jersey Devils and Vancouver Canucks between 1996 and 2006. Sean was a rugged NHL defenceman who finished his career with 907 penalty minutes.Following his NHL career, he played professionally in Germany and Austria before retiring. Sean is now an assistant coach with the junior Edmonton Oil Kings of the Western Hockey League.
---
Senior B Gale Lumber Softball Team 1966 - 1970 -
Softball
Year Inducted: 1996
Home Town: Oshawa
More about Senior B Gale Lumber Softball Team 1966 - 1970: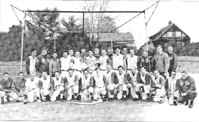 An Oshawa Softball Legend was born in 1965 when T.G. Gale Ltd. began sponsoring a group of Oshawa players. Gales, led by sponsor and player, John Carnwith, finished the 1965 season losing to Kingston in the Eastern Finals for the Ontario Senior B Championship. However, in 1966, Gales became Ontario Senior B Champions, defeating Sault Ste. Marie. The Gales successfully defended their title in 1967, 1968 and 1969 by eliminating the same Soo team. The 1970 Championship series ended in a spectacular fashion with the Gales winning a no-hit game. The Gales' achievements will always be a highlight in the history of Oshawa Softball. Robbie Mason, Reg White, Bill Kornylo, Jim Carnwith (sponsor), Dave Hickey, Peter Norris, John Carnwith (sponsor), Don McKay, Harry Heydon, Ron Taylor, Larry Marshall, Reg Hickey, Bob Young, Joe Piontek, Ralph O'Reilly, Jack MacDermaid, Ken Fisher, Terry Vail, Ron Simcoe, Harry Ross (trainer), Dan Price, Ralph Davis, Wayne Cheesman, Doug Cole, John Hurst (bat boy), Palmer Knight, Jim Rowden, Tom O Connor, Lloyd Mapes, Cy Thomson, Gord Wilson, Bert Harding
---
Sherwood (Sherry) Bassin -
Hockey
Year Inducted: 1994
Birth Date: August 14, 1939
More about Sherwood (Sherry) Bassin: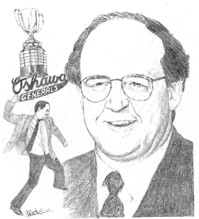 Sherry was born in Semans, Saskatchewan on August 14, 1939. He became involved with the Oshawa Generals Junior A Hockey Team as Coach from 1976 to 1977 and as General Manager between 1977 and 1989. The Generals, under Sherry's leadership, were Ontario Hockey League Champions and Memorial Cup Finalists in 1983 and 1987. In 1982 and 1985 Sherry served as Assistant Coach and Associate General Manager of Canada's World Champion Junior Hockey Teams. Sherry was General Manager of the Soo Greyhounds (1990-1993), who were Memorial Cup Winners in 1993. His other accomplishments include being awarded Ontario Sport Administrator of the year in 1985; The Ontario and Canadian Hockey League Executive of the Year Awards in 1992; operator of a successful summer hockey school; commentator on CBC Sports Week-end, World Championship Hockey Games and Global T.V. Several N.H.L. player contracts were successfully negotiated by Sherry, as well as an agreement between the Canadian Major Junior Hockey League and the N.H.L. Sherwood Bassin has continued his involvement in the hockey world as Assistant General Manager of the Quebec Nordiques of the N.H.L.
---